Terrorists carried out terrorist acts using explosive devices by capitalizing on unguarded moments of security personnel
Ministry of Home Affairs/ Naypyitaw / September 27, 2023
In order to cause injuries to both peaceable individuals and administrative authorities who are working to restore the rule of law, extreme terrorists provide financial assistance and instigate destructive activities, such as detonating explosive devices and remote blasting, against public roads, railways, departmental offices, and residential houses.
Since they are conducting such terrorist acts, on 23 September at 11:15 AM, Ko Myo Myint Aung (29 years old), who lives in Tharzi Ward of Bhamo Township, Kachin State, was leaving home to Narlon Village of Dotphoneyan Town on his motorcycle. When he arrived near the Deinjaryan Bridge located in Momauk Township, a mine, laid by KIA members who support terrorism and a so-called PDF terrorist group, exploded. As a result, Ko Myo Myint Aung sustained injuries from mine shrapnel and was transported to the Bhamo District Public Hospital for medical treatment, it is reported.
Likewise, at 12:10 PM, according to the report indicated that an explosion occurred at the Myoma Market in Wetlalywal Area of No. (7) Ward in Shwebo Township of Sagaing Region, security personnel went to the scene and conducted an inspection. Upon inspection, it is found that Daw Shwe Su (45) year old who lives in Aungsi Village of Ayardaw Township was leaving her home to go shopping at Myoma Market when a homemade mine planted by a so-called PDF terrorists exploded near the left side of the pavement on Zaygyi Road. As a result of the explosion, Daw Shwe Su was dead from mine shrapnel injuries, it is reported.
Similarly, at 03:20 PM, a so-called PDF terrorist (under scrutiny), who was riding a motorcycle along Kannar Street, thew a grenade at the location where goods were being loaded. These goods were being transported from Monywa (south) Jetty, located in Kannar Street of Monywa (south) Ward of Monywa Township, to Nyaungpingyi Jetty located on the other side of the Chindwin River. The grenade fell and exploded at the location. As a result, a regulator-5 from Monywa Township Development Committee U Min Thike (36 years old), U Aung Thaw Lin (37 years old), U Kyaw Moe Khine (42 years old), Ko Lwin (48 years old), Ko Min Khant Naing (20 years old), U Kyaw Kyaw Lwin (48 years old) and Daw Htar Sint (54 years old) sustained injuries from bomb shrapnel. They were transported to the Monywa Township Public Hospital. Unfortunately, among the injured individuals, U Min Thike was dead from his injuries while being transported to the hospital for medical treatment, it is reported.
It has been reported that the security personnel are investigating the perpetrators of the acts of terrorism from the above incidents in order to be able to take effective action in accordance with laws.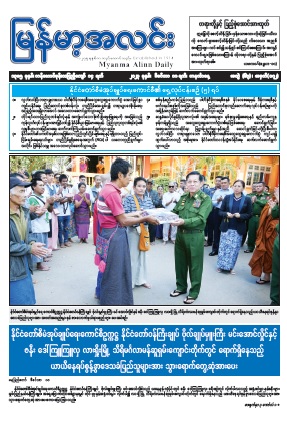 ၁၃၈၅ ခုနှစ်၊ တန်ဆောင်မုန်းလပြည့်ကျော် ၁၄ ရက်၊ ဒီဇင်ဘာ ၁၁ ရက်၊ တနင်္လာနေ့။
---
Publisher: မြန်မာ့အလင်း/ December 11, 2023
Publication Date: 2023
Page: 32 Pages
Language: မြန်မာ
Download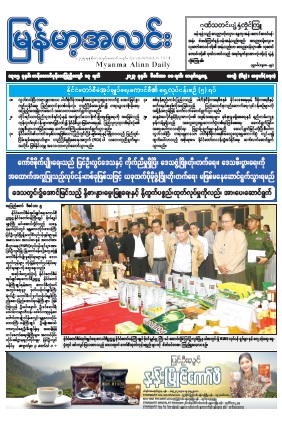 ၁၃၈၅ ခုနှစ်၊ တန်ဆောင်မုန်းလပြည့်ကျော် ၁၃ ရက်၊ ဒီဇင်ဘာ ၁၀ ရက်၊ တနင်္ဂနွေနေ့။
---
Publisher: မြန်မာ့အလင်း/ December 10, 2023
Publication Date: 2023
Page: 32 Pages
Language: မြန်မာ
Download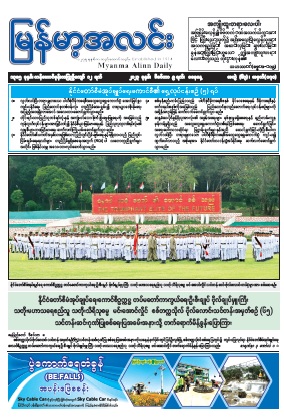 ၁၃၈၅ ခုနှစ်၊ တန်ဆောင်မုန်းလပြည့်ကျော် ၁၂ ရက်၊ ဒီဇင်ဘာ ၉ ရက်၊ စနေနေ့။
---
Publisher: မြန်မာ့အလင်း/ December 09, 2023
Publication Date: 2023
Page: 32 Pages
Language: မြန်မာ
Download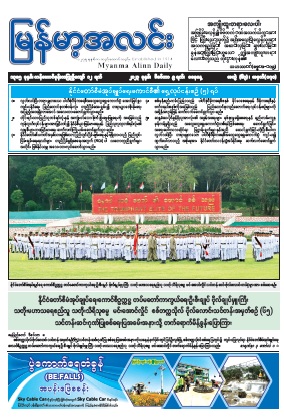 Information Sheet (6-12-2023) / Burmese (Myanmar Version)
---
Publisher: Information Sheet/ December 08, 2023
Publication Date: 2023
Page: 31
Language: Burmese (Myanmar Version
Download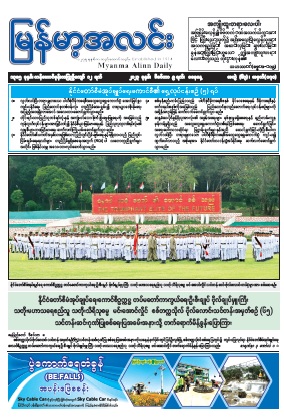 Information Sheet (6-12-2023) / English Version
---
Publisher: Information Sheet/ December 08, 2023
Publication Date: 2023
Page: 31
Language: English Version
Download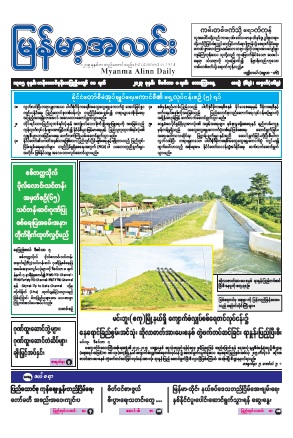 ၁၃၈၅ ခုနှစ်၊ တန်ဆောင်မုန်းလပြည့်ကျော် ၁၁ ရက်၊ ဒီဇင်ဘာ ၈ ရက်၊ သောကြာနေ့။
---
Publisher: မြန်မာ့အလင်း/ December 08, 2023
Publication Date: 2023
Page: 32 Pages
Language: မြန်မာ
Download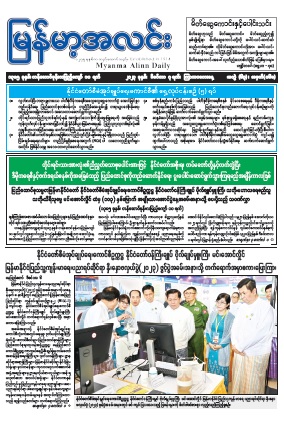 ၁၃၈၅ ခုနှစ်၊ တန်ဆောင်မုန်းလပြည့်ကျော် ၁၀ ရက်၊ ဒီဇင်ဘာ ၇ ရက်၊ ကြာသပတေးနေ့။
---
Publisher: မြန်မာ့အလင်း/ December 07, 2023
Publication Date: 2023
Page: 32 Pages
Language: မြန်မာ
Download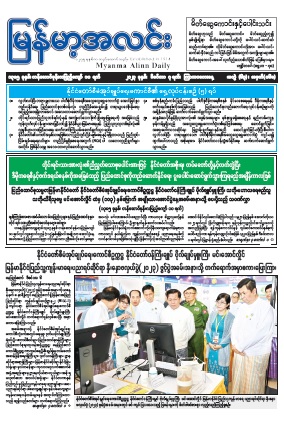 Information Sheet (4-12-2023) / Burmese (Myanmar Version)
---
Publisher: Information Sheet/ December 06, 2023
Publication Date: 2023
Page: 38
Language: Burmese (Myanmar Version)
Download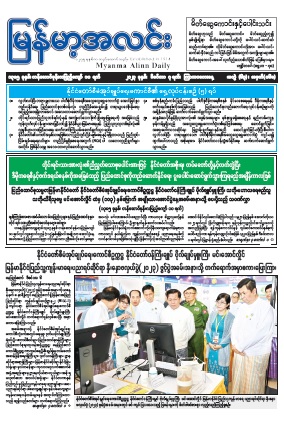 Information Sheet (4-12-2023) / English Version
---
Publisher: Information Sheet/ December 06, 2023
Publication Date: 2023
Page: 38
Language: English Version
Download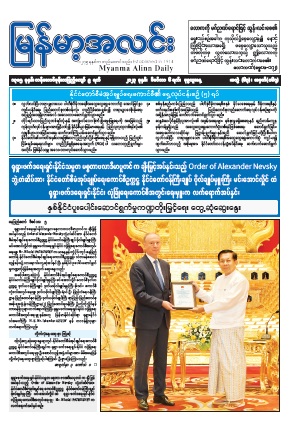 ၁၃၈၅ ခုနှစ်၊ တန်ဆောင်မုန်းလပြည့်ကျော် ၉ ရက်၊ ဒီဇင်ဘာ ၆ ရက်၊ ဗုဒ္ဓဟူးနေ့။
---
Publisher: မြန်မာ့အလင်း/ December 06, 2023
Publication Date: 2023
Page: 32 Pages
Language: မြန်မာ
Download