Notification on a one-year extension of the COVID-19 loan repayment period from the 2nd-year due date
Ministry of Information/ Naypyitaw / November 05, 2022
1. The Working Committee to address the impact of Coronavirus Disease 2019 (COVID-19) disbursed a K158.4438 billion loan for one year period at a one per cent interest rate using K200 billion of COVID-19 Fund to 5,990 companies/industries as per the priority sectors and granted the loans on 9 April 2020 to the following businesses:
(a) CMP
(b) Hotels and tourism
(c) Small and Medium scale Enterprises
(d) Agriculture, Livestock breeding and marine production
(e) Export products manufacturing industries
(f) Import substitute products manufacturing industries
(g) Businesses that participate in Supply Chain from local production to the export sector
(h) Foodstuffs manufacturing industries
(i) Overseas employment agencies
(j) Vocational training schools
2. It has already been announced that the government extended the repayment period of loans granted to 5,990 companies/industries further six months for the first time when the loan period reached one year on 17 March 2021 under the guidance of the State Administration Council Chairman and provided second six-month loan repayment moratorium when the loan period reached one year and six months on 11 September 2021, and so it was extended for one year.
3. Currently, businesses are still hit by the COVID-19 pandemic and the SAC instructed for an extension of another year starting its due date to streamline the circulation of currency flows of local businesses.
4. Therefore, it is here announced that the loan repayment period will be extended for another year from the date it reaches two years to 5,990 companies and industries that received COVID-19 loans if they meet the following conditions:
(a) they must have paid the first interest for the first year
(b) they must have paid the second interest for the second year if they are on the due date
(c) they must be the companies/industries that perform their operations using the loans effectively
5. In the notices of the working committee for loans, it stated "if it fails to repay, action will be taken under the law", and so if the companies/industries that took loans from the Myanmar Economic Bank fail to pay back the capital and interest, they will face legal action as per the terms and conditions of the loan contract and they must repay the outstanding loan completely within the period of extension.
Working Committee to address the impact of
Coronavirus Disease 2019 (COVID-19)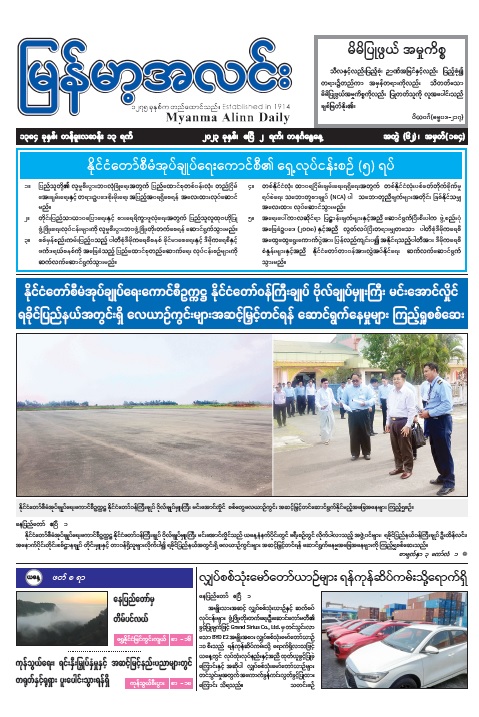 ၁၃၈၄ ခုနှစ်၊ တန်ခူးလဆန်း ၁၃ ရက်၊ ဧပြီ ၂ ရက်၊ တနင်္ဂနွေနေ့။
---
Publisher: မြန်မာ့အလင်း/ April 02, 2023
Publication Date: 2023
Page: 32 Pages
Language: မြန်မာ
Download
၁၃၈၄ ခုနှစ်၊ တန်ခူးလဆန်း ၁၂ ရက်၊ ဧ ၁ ရက်၊ စနေနေ့။
---
Publisher: မြန်မာ့အလင်း/ April 01, 2023
Publication Date: 2023
Page: 32 Pages
Language: မြန်မာ
Download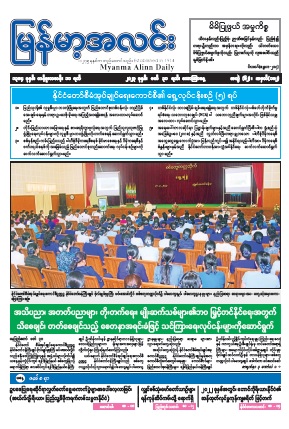 ၁၃၈၄ ခုနှစ်၊ တန်ခူးလဆန်း ၁၁ ရက်၊ မတ် ၃၁ ရက်၊ သောကြာနေ့။
---
Publisher: မြန်မာ့အလင်း/ March 31, 2023
Publication Date: 2023
Page: 32 Pages
Language: မြန်မာ
Download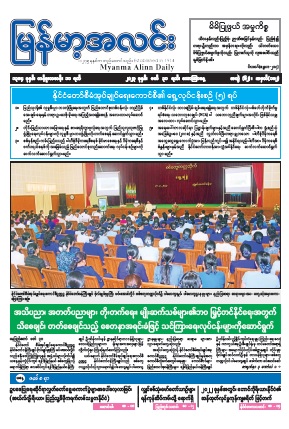 29-3-2023 Information Sheet (English)
---
Publisher: MOD/ March 30, 2023
Publication Date: 2023
Page: 16
Language: English
Download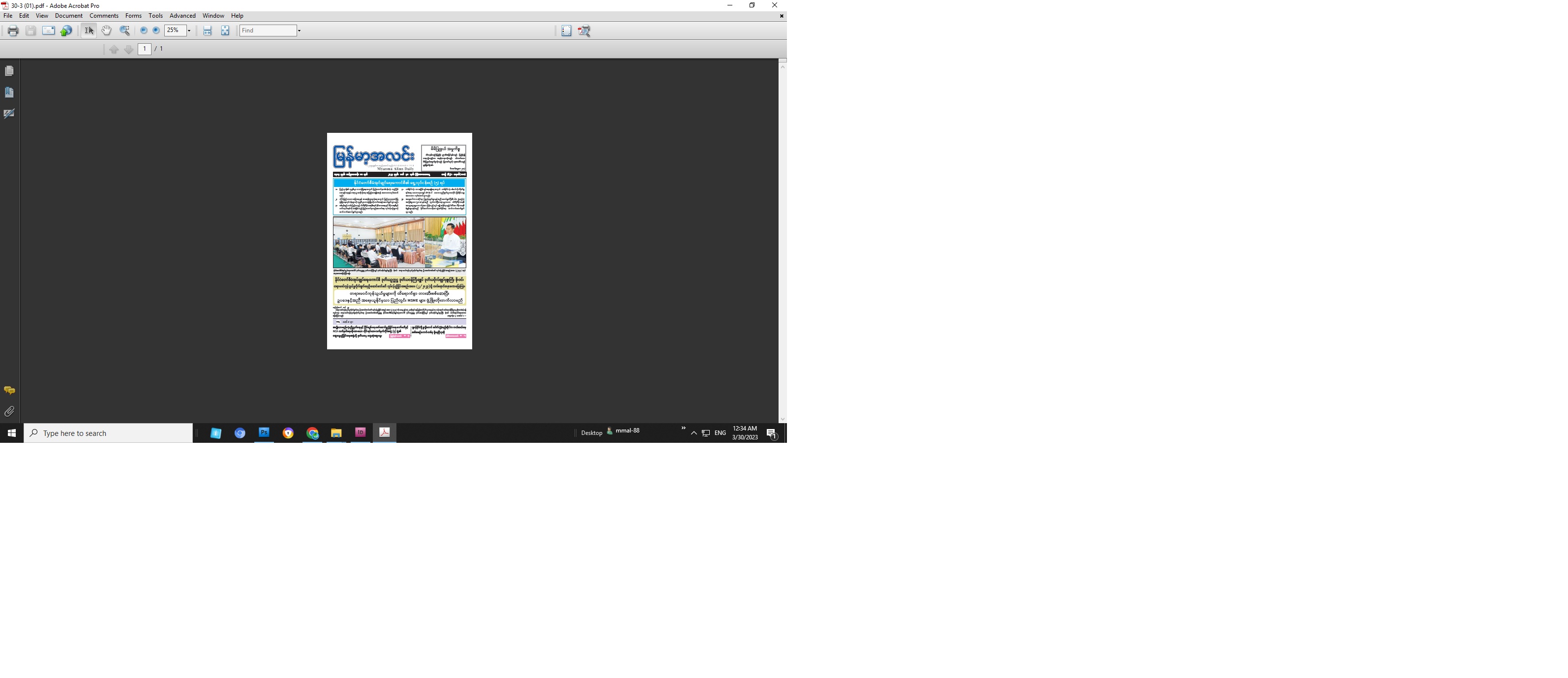 ၁၃၈၄ ခုနှစ်၊ တန်ခူးလဆန်း ၁၀ ရက်၊ မတ် ၃၀ ရက်၊ ကြာသပတေးနေ့။
---
Publisher: မြန်မာ့အလင်း/ March 30, 2023
Publication Date: 2023
Page: 32 Pages
Language: မြန်မာ
Download
၁၃၈၄ ခုနှစ်၊ တန်ခူးလဆန်း ၉ ရက်၊ မတ် ၂၉ ရက်၊ ဗုဒ္ဓဟူးနေ့။
---
Publisher: မြန်မာ့အလင်း/ March 29, 2023
Publication Date: 2023
Page: 32 Pages
Language: မြန်မာ
Download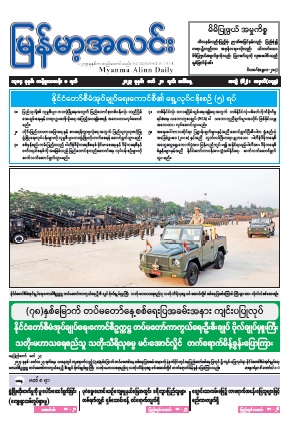 ၁၃၈၄ ခုနှစ်၊ တန်ခူးလဆန်း ၈ ရက်၊ မတ် ၂၈ ရက်၊ အင်္ဂါနေ့။
---
Publisher: မြန်မာ့အလင်း/ March 28, 2023
Publication Date: 2023
Page: 32 Pages
Language: မြန်မာ
Download
၁၃၈၄ ခုနှစ်၊ တန်ခူးလဆန်း ၇ ရက်၊ မတ် ၂၇ ရက်၊ တနင်္လာနေ့။
---
Publisher: မြန်မာ့အလင်း/ March 27, 2023
Publication Date: 2023
Page: 32 Pages
Language: မြန်မာ
Download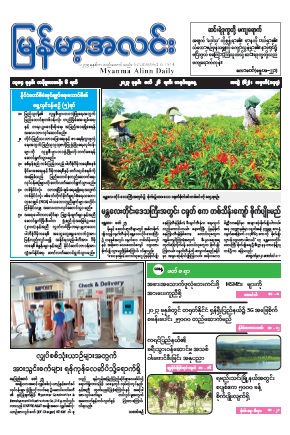 ၁၃၈၄ ခုနှစ်၊ တန်ခူးလဆန်း ၆ ရက်၊ မတ် ၂၆ ရက်၊ တနင်္ဂနွေနေ့။
---
Publisher: မြန်မာ့အလင်း/ March 26, 2023
Publication Date: 2023
Page: 32 Pages
Language: မြန်မာ
Download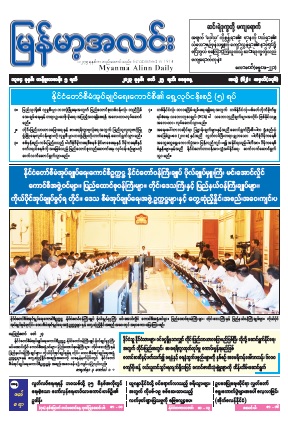 ၁၃၈၄ ခုနှစ်၊ တန်ခူးလဆန်း ၅ ရက်၊ မတ် ၂၅ ရက်၊ စနေနေ့။
---
Publisher: မြန်မာ့အလင်း/ March 25, 2023
Publication Date: 2023
Page: 32 Pages
Language: မြန်မာ
Download