Security Forces Seized Homemade Mines, Improvised Mortars and Homemade Guns that were used by the So-Called PDF Terrorist Groups to Detonate Public Roads, Bridges and Buildings in Myinmu and Pakokku Township
Ministry of Home Affairs/ Naypyitaw / March 19, 2023
Security forces Seized homemade mines, improvised mortars and homemade guns that were used by the so-called PDF Terrorist groups to detonate public roads, bridges and buildings in Myinmu and Pakokku Township.
On 14 March at 08:30 AM, security personnel were carrying out security measures to maintain community peace and stability in Myinmu Township, Sagaing Region, and when they arrived near Gwaypintaw Village, 12 assorted homemade mines, four keypad phones, six motorcycle batteries (small size) and two-pin twisted wire that had been planted by the so-called PDF terrorist group were found and seized on the left side of the ChaungU-Myinmu Road. The security personnel diffused and destroyed the items. On the same day at 07:00 PM, the so-called PDF terrorist group (total number – under scrutiny) ambushed and opened fire homemade missiles and small arms to security personnel in Sallan Village of Pakokku Township, Magway Region. When the security personnel responded with restraint in accordance with security procedures, the terrorists fled to the south of the Village in disorder. The security force members took further security measures to secure the area and seized one 40 MM homemade mortar and two homemade guns, it is reported.
Security personnel are beefing up security measures to arrest the terrorists who commit violence attack and detonation by aiming to disrupt the peace and tranquility of the public as quick as possible and restore community peace and stability in the area in accordance with laws, it is reported.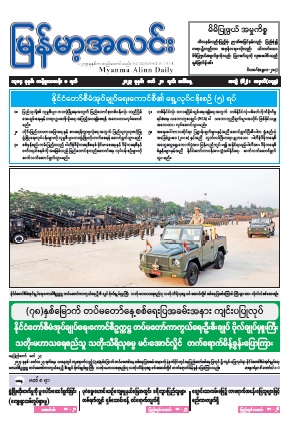 ၁၃၈၄ ခုနှစ်၊ တန်ခူးလဆန်း ၈ ရက်၊ မတ် ၂၈ ရက်၊ အင်္ဂါနေ့။
---
Publisher: မြန်မာ့အလင်း/ March 28, 2023
Publication Date: 2023
Page: 32 Pages
Language: မြန်မာ
Download
၁၃၈၄ ခုနှစ်၊ တန်ခူးလဆန်း ၇ ရက်၊ မတ် ၂၇ ရက်၊ တနင်္လာနေ့။
---
Publisher: မြန်မာ့အလင်း/ March 27, 2023
Publication Date: 2023
Page: 32 Pages
Language: မြန်မာ
Download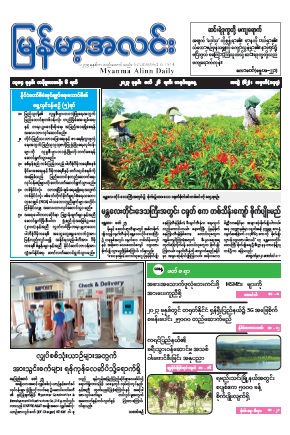 ၁၃၈၄ ခုနှစ်၊ တန်ခူးလဆန်း ၆ ရက်၊ မတ် ၂၆ ရက်၊ တနင်္ဂနွေနေ့။
---
Publisher: မြန်မာ့အလင်း/ March 26, 2023
Publication Date: 2023
Page: 32 Pages
Language: မြန်မာ
Download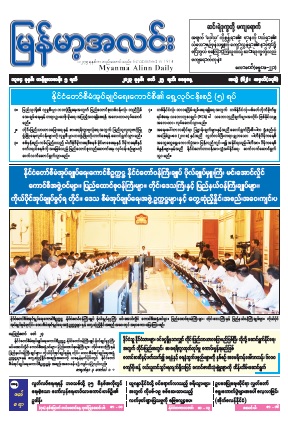 ၁၃၈၄ ခုနှစ်၊ တန်ခူးလဆန်း ၅ ရက်၊ မတ် ၂၅ ရက်၊ စနေနေ့။
---
Publisher: မြန်မာ့အလင်း/ March 25, 2023
Publication Date: 2023
Page: 32 Pages
Language: မြန်မာ
Download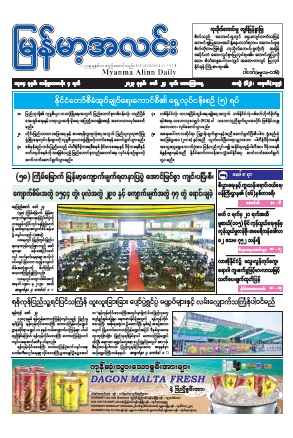 ၁၃၈၄ ခုနှစ်၊ တန်ခူးလဆန်း ၄ ရက်၊ မတ် ၂၄ ရက်၊ သောကြာနေ့။
---
Publisher: မြန်မာ့အလင်း/ March 24, 2023
Publication Date: 2023
Page: 32 Pages
Language: မြန်မာ
Download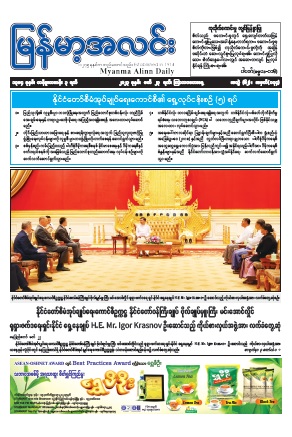 ၁၃၈၄ ခုနှစ်၊ တန်ခူးလဆန်း ၃ ရက်၊ မတ် ၂၃ ရက်၊ ကြာသပတေးနေ့။
---
Publisher: မြန်မာ့အလင်း/ March 23, 2023
Publication Date: 2023
Page: 32 Pages
Language: မြန်မာ
Download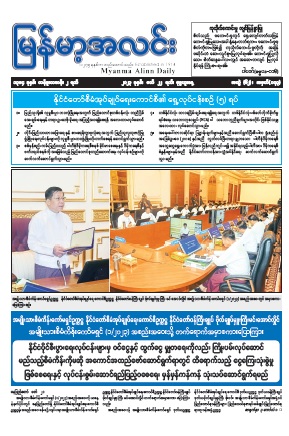 ၁၃၈၄ ခုနှစ်၊ တန်ခူးလဆန်း ၂ ရက် ၊ မတ် ၂၂ ရက်၊ ဗုဒ္ဓဟူးနေ့။
---
Publisher: မြန်မာ့အလင်း/ March 22, 2023
Publication Date: 2023
Page: 32 Pages
Language: မြန်မာ
Download
၁၃၈၄ ခုနှစ်၊ တန်ခူးလဆန်း ၁ ရက် ၊ မတ် ၂၁ ရက်၊ အင်္ဂါနေ့။
---
Publisher: မြန်မာ့အလင်း/ March 21, 2023
Publication Date: 2023
Page: 32 Pages
Language: မြန်မာ
Download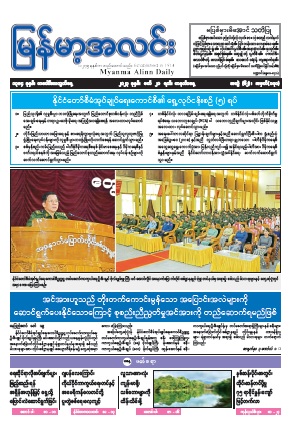 ၁၃၈၄ ခုနှစ်၊ တပေါင်းလကွယ်နေ့၊ မတ် ၂၀ ရက်၊ တနင်္လာနေ့။
---
Publisher: မြန်မာ့အလင်း/ March 20, 2023
Publication Date: 2023
Page: 32 Pages
Language: မြန်မာ
Download
၁၃၈၄ ခုနှစ်၊ တပေါင်းလပြည့်ကျော် ၁၄ ရက် ၊ မတ် ၁၉ ရက်၊ တနင်္ဂနွေနေ့။
---
Publisher: မြန်မာ့အလင်း/ March 19, 2023
Publication Date: 2023
Page: 32 Pages
Language: မြန်မာ
Download