Mahabodhi Pagoda in Bagan Archaeological Zone opens for pilgrims
Ministry of Information/ Naypyitaw / August 13, 2022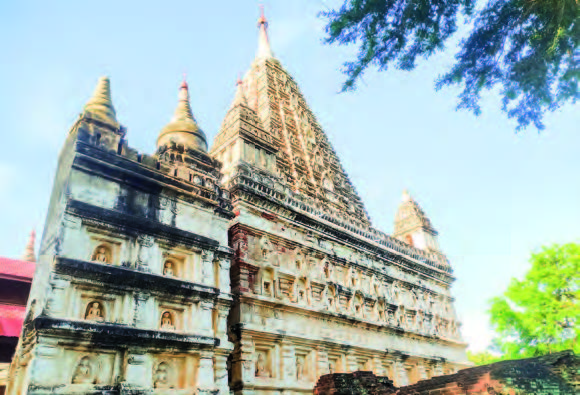 PEOPLE can visit the Mahabodhi Pagoda in the Bagan-NyaungU Ancient Cultural Zone of old Bagan and explore the architectural works of Buddha images, Inwa-era mural plaques and the structure of the pagoda, according to the Mahabodhi Pagoda Trustees Board.
The pagoda was built by King Nataungmya in 1215 AD and modelled after the Mahabodhi Temple in Bodh Gaya, India, the place where the Buddha attained supreme enlightenment some 25 centuries ago. Its lower structure was erected as a square block neither low nor high and above it is the square pyramidal shape tower. The Buddha image inside the Mahabodhi Temple is known as the restoration model after the earthquake disaster. One can see a ladder to go up and the mural plaques on the east wall of the upper arch gate.
The Mahabodhi Pagoda is a two-storey structure about 240 feet high. Each size of its squareshaped base structure is a smaller version of the stupa. Both the base and tower consist of numerous niches, in which 645 Buddha images in different postures reside, stated the Board of Trustees from Mahabodhi Pagoda.
Pilgrims can stop by at the Mahabodhi Pagoda while travelling in the Bagan Archaeological Zone. From the pagoda, explorers can see the Bagan Lacquerware College in the north, the Bu Pagoda in the west, the Aungmyaytha Palace of King Anawrahta and King Kyansittha in the south and the Information Centre in the east.
Ko Kyemon/ GNLM
#TheGlobalNewLightOfMyanmar