Implement reform processes in education for posterity
Ministry of Information/ Naypyitaw / June 01, 2023
EDUCATION is the best investment for society with a long-term plan to improve the socioeconomic life of the people. Such an investment can shape a poor country to enjoy a fruitful result of development through well-versed human resources based on an invested education sector.
Only when a country carries out a reform process in the education sector with short-term and long-term plans in harmony, will the society obtain remarkable results. If something derails from the reform process of the education sector, an unacceptable result will come out. As such, the State leaders with farsightedness emphasized improvement of the education sector not only for new generations but for the fortune of the country.
In truth, education is one of the basic human rights for all. Especially, it is important for new-generation youths who severely suffered the impacts of armed conflicts and natural disasters. That is why Un agencies, non-governmental organizations, civil service societies and local organizations have to cooperate with among them in creating learning opportunities for children and youths who are victims of poverty.
Concerning the plights of school-age children who missed learning opportunities, three out of ten youths missed the chance to attend school due to monetary unaffordability. Some people in the age-wise group from three to 50 years old with various reasons primarily based on poverty are absent to continue learning school education.
In this regard, 1.9 per cent of those persons do not attend school because of ailing or injuries or disabilities; 21.5 per cent of them are unaffordable to learn school education; 29.2 of them help home business; 7.2 per cent of them join agriculture and livestock farming tasks; 12.2 per cent of them face loss in the examination or lack of ability to pursue education or cannot focus on learning; and 4.5 per cent of them live in a far distance from school.
Education standards and lesser learning opportunities will be hindrances to the development of the State economy. If the education sector does not have any progress, any country cannot successfully implement poverty alleviation programmes. As such, Myanmar should emphasize reform processes in the education sector to contribute towards the rapid development of the country.
Stabilized education sector can turn out well-versed human resources as well as intellectuals and intelligentsia for the society. Hence, the reform process in the education sector should remove and stop experimentation over students under the firm policies which must be adopted as the long-term master plan. If so, education will grant the fortune of the country as well as its posterity.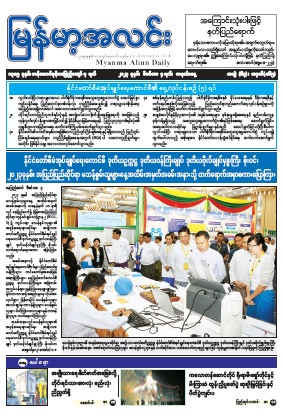 ၁၃၈၅ ခုနှစ်၊ တန်ဆောင်မုန်းလပြည့်ကျော် ၇ ရက်၊ ဒီဇင်ဘာ ၄ ရက်၊ တနင်္လာနေ့။
---
Publisher: မြန်မာ့အလင်း/ December 04, 2023
Publication Date: 2023
Page: 32 Pages
Language: မြန်မာ
Download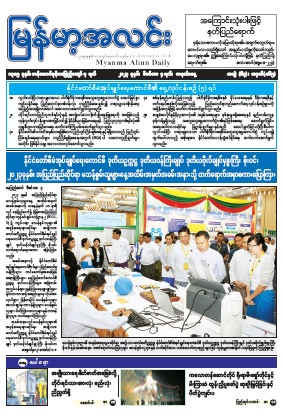 ၁၃၈၅ ခုနှစ်၊ တန်ဆောင်မုန်းလပြည့်ကျော် ၇ ရက်၊ ဒီဇင်ဘာ ၄ ရက်၊ တနင်္လာနေ့။
---
Publisher: မြန်မာ့အလင်း/ December 04, 2023
Publication Date: 2023
Page: 32 Pages
Language: မြန်မာ
Download
၁၃၈၅ ခုနှစ်၊ တန်ဆောင်မုန်းလပြည့်ကျော် ၆ ရက်၊ ဒီဇင်ဘာ ၃ ရက်၊ တနင်္ဂနွေနေ့။
---
Publisher: မြန်မာ့အလင်း/ December 03, 2023
Publication Date: 2023
Page: 32 Pages
Language: မြန်မာ
Download
၁၃၈၅ ခုနှစ်၊ တန်ဆောင်မုန်းလပြည့်ကျော် ၆ ရက်၊ ဒီဇင်ဘာ ၃ ရက်၊ တနင်္ဂနွေနေ့။
---
Publisher: မြန်မာ့အလင်း/ December 03, 2023
Publication Date: 2023
Page: 32 Pages
Language: မြန်မာ
Download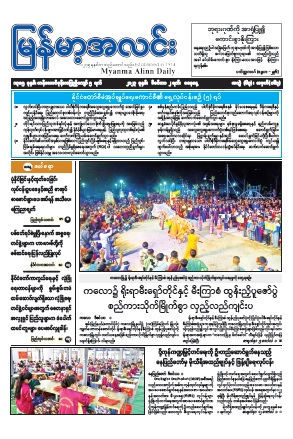 ၁၃၈၅ ခုနှစ်၊ တန်ဆောင်မုန်းလပြည့်ကျော် ၅ ရက်၊ ဒီဇင်ဘာ ၂ ရက်၊ စနေနေ့။
---
Publisher: မြန်မာ့အလင်း/ December 02, 2023
Publication Date: 2023
Page: 32 Pages
Language: မြန်မာ
Download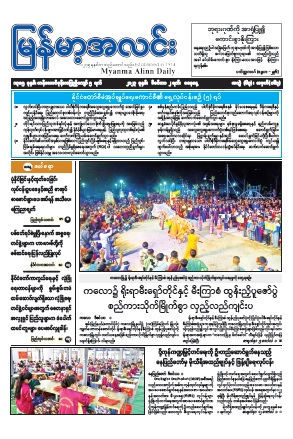 ၁၃၈၅ ခုနှစ်၊ တန်ဆောင်မုန်းလပြည့်ကျော် ၅ ရက်၊ ဒီဇင်ဘာ ၂ ရက်၊ စနေနေ့။
---
Publisher: မြန်မာ့အလင်း/ December 02, 2023
Publication Date: 2023
Page: 32 Pages
Language: မြန်မာ
Download
၁၃၈၅ ခုနှစ်၊ တန်ဆောင်မုန်းလပြည့်ကျော် ၄ ရက်၊ ီဇင်ဘာ ၁ ရက်၊ သောကြာနေ့။
---
Publisher: မြန်မာ့အလင်း/ December 01, 2023
Publication Date: 2023
Page: 32 Pages
Language: မြန်မာ
Download
၁၃၈၅ ခုနှစ်၊ တန်ဆောင်မုန်းလပြည့်ကျော် ၄ ရက်၊ ီဇင်ဘာ ၁ ရက်၊ သောကြာနေ့။
---
Publisher: မြန်မာ့အလင်း/ December 01, 2023
Publication Date: 2023
Page: 32 Pages
Language: မြန်မာ
Download
Information Sheet (29-11-2023) / Burmese (Myanmar Version)
---
Publisher: Information Sheet/ November 30, 2023
Publication Date: 2023
Page: 26
Language: Burmese (Myanmar Version)
Download