MoH Union Minister attends World No Tobacco Day 2023 Ceremony
Ministry of Information/ Naypyitaw / June 01, 2023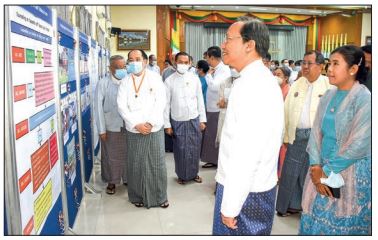 A ceremony to mark World No Tobacco Day 2023 was held at the meeting hall of the Ministry of Health yesterday morning.
Union Minister for Health Dr Thet Khaing Win, deputy ministers from the Ministry of Planning and Finance, and Ministry of Health, permanent secretaries from ministries, directors-general and officials, chairpersons of Myanmar Maternal and Child Welfare Association, Myanmar Women's Affairs Federation, Myanmar Red Cross Society, Myanmar Medical Association, Public Health Foundation, and representatives attended the event.
At the ceremony, the Union minister said that 31 May is the World No Tobacco Day every year. Tobacco use is a major cause of many other diseases, including chronic lung disease, but it is an avoidable cause.
Commemorative ceremonies have been held in countries around the world since 1989 with the aim of reducing tobacco consumption.
The theme of the World No Tobacco Day 2023 is "We need food, not tobacco".
As tobacco and tobacco product manufacturers find it difficult to find markets in developed countries, they have expanded their target markets in developing countries.
While the number of smokers in developed countries has decreased, tobacco use such as smoking and chewing betel has increased exponentially in low-income developing countries.
In addition, 90 per cent of betel nut users and tobacco smokers worldwide live in Southeast Asian countries.
According to the research that studies the investment in tobacco and tobacco product consumption prevention and control activities in 2018, it is found that about 64,000 people die every year due to tobacco and tobacco consumption in Myanmar, and the annual economic loss value is equivalent to K2.6 trillion, the Union minister stated.
The theme of this year's theme is to reduce tobacco production by expanding the production of alternative tobacco crops and contributing to global food security and the elimination of hunger, which is one of the goals of the Sustainable Development Goals 2030.
In such doing, he urged the MoH Union Minister attends World No Tobacco Day 2023 Ceremony ministries, partner organizations and the public to continue to work together to raise awareness among farmers about the cultivation of tobacco substitute trees, support technology and finance, and develop markets for tobacco substitute crops, he added.
Afterwards, a documentary video was shown marking World No Tobacco Day 2023, and Union minister and officials toured the small gallery commemorating the event.
MNA/KZL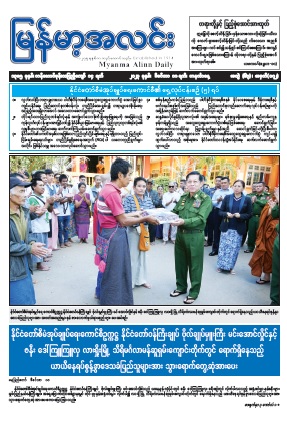 ၁၃၈၅ ခုနှစ်၊ တန်ဆောင်မုန်းလပြည့်ကျော် ၁၄ ရက်၊ ဒီဇင်ဘာ ၁၁ ရက်၊ တနင်္လာနေ့။
---
Publisher: မြန်မာ့အလင်း/ December 11, 2023
Publication Date: 2023
Page: 32 Pages
Language: မြန်မာ
Download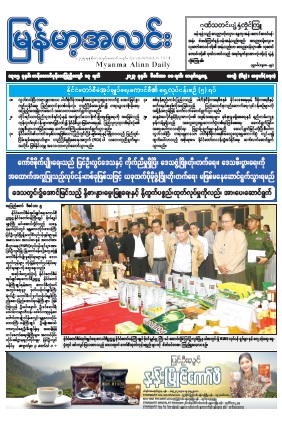 ၁၃၈၅ ခုနှစ်၊ တန်ဆောင်မုန်းလပြည့်ကျော် ၁၃ ရက်၊ ဒီဇင်ဘာ ၁၀ ရက်၊ တနင်္ဂနွေနေ့။
---
Publisher: မြန်မာ့အလင်း/ December 10, 2023
Publication Date: 2023
Page: 32 Pages
Language: မြန်မာ
Download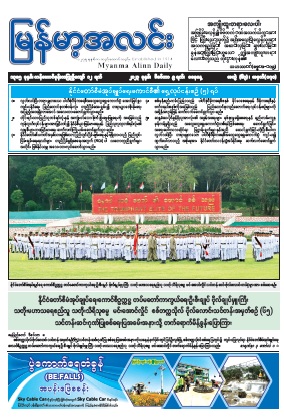 ၁၃၈၅ ခုနှစ်၊ တန်ဆောင်မုန်းလပြည့်ကျော် ၁၂ ရက်၊ ဒီဇင်ဘာ ၉ ရက်၊ စနေနေ့။
---
Publisher: မြန်မာ့အလင်း/ December 09, 2023
Publication Date: 2023
Page: 32 Pages
Language: မြန်မာ
Download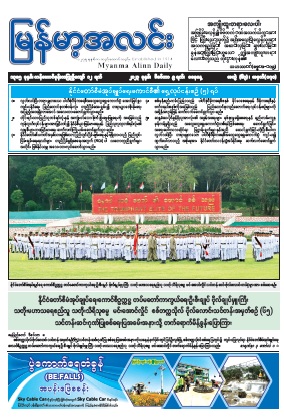 Information Sheet (6-12-2023) / Burmese (Myanmar Version)
---
Publisher: Information Sheet/ December 08, 2023
Publication Date: 2023
Page: 31
Language: Burmese (Myanmar Version
Download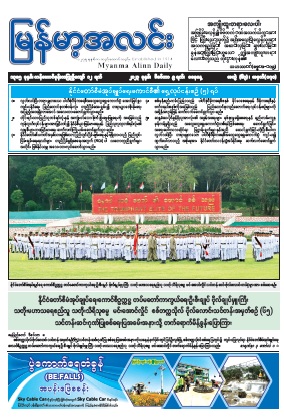 Information Sheet (6-12-2023) / English Version
---
Publisher: Information Sheet/ December 08, 2023
Publication Date: 2023
Page: 31
Language: English Version
Download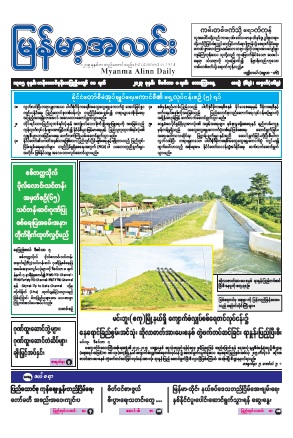 ၁၃၈၅ ခုနှစ်၊ တန်ဆောင်မုန်းလပြည့်ကျော် ၁၁ ရက်၊ ဒီဇင်ဘာ ၈ ရက်၊ သောကြာနေ့။
---
Publisher: မြန်မာ့အလင်း/ December 08, 2023
Publication Date: 2023
Page: 32 Pages
Language: မြန်မာ
Download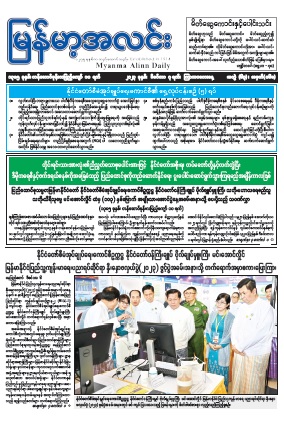 ၁၃၈၅ ခုနှစ်၊ တန်ဆောင်မုန်းလပြည့်ကျော် ၁၀ ရက်၊ ဒီဇင်ဘာ ၇ ရက်၊ ကြာသပတေးနေ့။
---
Publisher: မြန်မာ့အလင်း/ December 07, 2023
Publication Date: 2023
Page: 32 Pages
Language: မြန်မာ
Download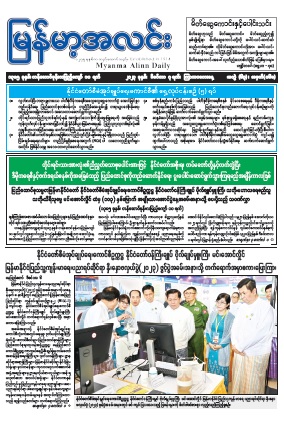 Information Sheet (4-12-2023) / Burmese (Myanmar Version)
---
Publisher: Information Sheet/ December 06, 2023
Publication Date: 2023
Page: 38
Language: Burmese (Myanmar Version)
Download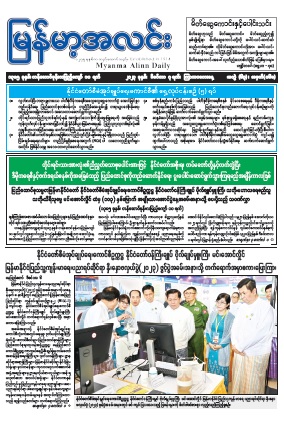 Information Sheet (4-12-2023) / English Version
---
Publisher: Information Sheet/ December 06, 2023
Publication Date: 2023
Page: 38
Language: English Version
Download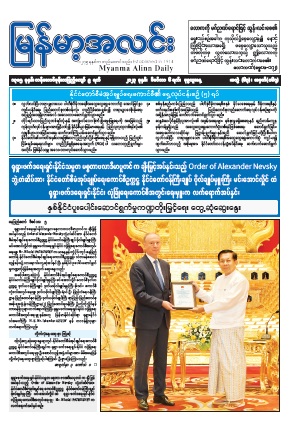 ၁၃၈၅ ခုနှစ်၊ တန်ဆောင်မုန်းလပြည့်ကျော် ၉ ရက်၊ ဒီဇင်ဘာ ၆ ရက်၊ ဗုဒ္ဓဟူးနေ့။
---
Publisher: မြန်မာ့အလင်း/ December 06, 2023
Publication Date: 2023
Page: 32 Pages
Language: မြန်မာ
Download