MoIP Union Minister receives Chinese Ambassador
Ministry of Information/ Naypyitaw / June 01, 2023
UNION Minister for Immigration and Population U Myint Kyaing received Chinese Ambassador to Myanmar Mr Chen Hai and a delegation at the meeting hall of the ministry in Nay Pyi Taw yesterday afternoon.
During the meeting, both sides cordially discussed and frankly exchanged views on immigration cooperation, entry and exit through the border of the two countries, operational requirements to be carried out for upgrading border posts, the extension of visas based on visa types, people of the two countries crossing the border using border passes, implementation of the agreement signed by the two countries in 1997 and cooperation of China in the work for accepting displaced persons from Rakhine State and communication and cooperation with Bangladesh for accepting them.
Also, present at the meeting were deputy ministers, directors-general and responsible personnel.
— MNA/MKKS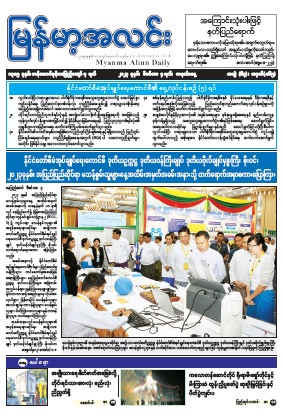 ၁၃၈၅ ခုနှစ်၊ တန်ဆောင်မုန်းလပြည့်ကျော် ၇ ရက်၊ ဒီဇင်ဘာ ၄ ရက်၊ တနင်္လာနေ့။
---
Publisher: မြန်မာ့အလင်း/ December 04, 2023
Publication Date: 2023
Page: 32 Pages
Language: မြန်မာ
Download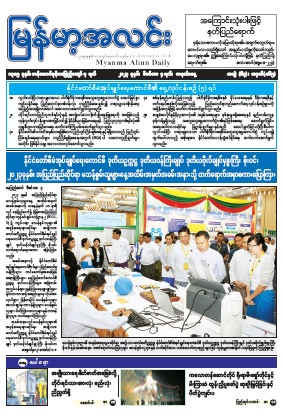 ၁၃၈၅ ခုနှစ်၊ တန်ဆောင်မုန်းလပြည့်ကျော် ၇ ရက်၊ ဒီဇင်ဘာ ၄ ရက်၊ တနင်္လာနေ့။
---
Publisher: မြန်မာ့အလင်း/ December 04, 2023
Publication Date: 2023
Page: 32 Pages
Language: မြန်မာ
Download
၁၃၈၅ ခုနှစ်၊ တန်ဆောင်မုန်းလပြည့်ကျော် ၆ ရက်၊ ဒီဇင်ဘာ ၃ ရက်၊ တနင်္ဂနွေနေ့။
---
Publisher: မြန်မာ့အလင်း/ December 03, 2023
Publication Date: 2023
Page: 32 Pages
Language: မြန်မာ
Download
၁၃၈၅ ခုနှစ်၊ တန်ဆောင်မုန်းလပြည့်ကျော် ၆ ရက်၊ ဒီဇင်ဘာ ၃ ရက်၊ တနင်္ဂနွေနေ့။
---
Publisher: မြန်မာ့အလင်း/ December 03, 2023
Publication Date: 2023
Page: 32 Pages
Language: မြန်မာ
Download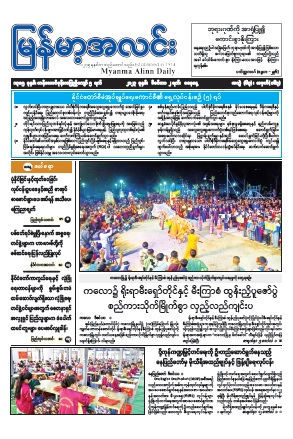 ၁၃၈၅ ခုနှစ်၊ တန်ဆောင်မုန်းလပြည့်ကျော် ၅ ရက်၊ ဒီဇင်ဘာ ၂ ရက်၊ စနေနေ့။
---
Publisher: မြန်မာ့အလင်း/ December 02, 2023
Publication Date: 2023
Page: 32 Pages
Language: မြန်မာ
Download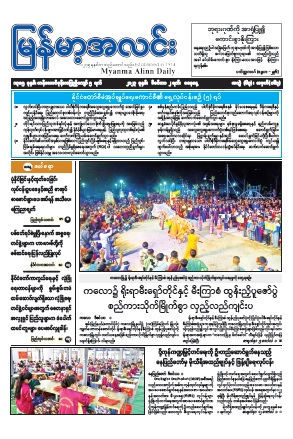 ၁၃၈၅ ခုနှစ်၊ တန်ဆောင်မုန်းလပြည့်ကျော် ၅ ရက်၊ ဒီဇင်ဘာ ၂ ရက်၊ စနေနေ့။
---
Publisher: မြန်မာ့အလင်း/ December 02, 2023
Publication Date: 2023
Page: 32 Pages
Language: မြန်မာ
Download
၁၃၈၅ ခုနှစ်၊ တန်ဆောင်မုန်းလပြည့်ကျော် ၄ ရက်၊ ီဇင်ဘာ ၁ ရက်၊ သောကြာနေ့။
---
Publisher: မြန်မာ့အလင်း/ December 01, 2023
Publication Date: 2023
Page: 32 Pages
Language: မြန်မာ
Download
၁၃၈၅ ခုနှစ်၊ တန်ဆောင်မုန်းလပြည့်ကျော် ၄ ရက်၊ ီဇင်ဘာ ၁ ရက်၊ သောကြာနေ့။
---
Publisher: မြန်မာ့အလင်း/ December 01, 2023
Publication Date: 2023
Page: 32 Pages
Language: မြန်မာ
Download
Information Sheet (29-11-2023) / Burmese (Myanmar Version)
---
Publisher: Information Sheet/ November 30, 2023
Publication Date: 2023
Page: 26
Language: Burmese (Myanmar Version)
Download