Chairman of State Administration Council Commander-in-Chief of Defence Services Senior General Min Aung Hlaing Receives a Delegation led by Air Chief Marshal Alongkorn Vannarot of the Royal Thai Air Force
Ministry of Defense/ Naypyitaw / September 19, 2023
The Chairman of the State Administration Council (SAC) Commander-in-Chief of Defence Services Senior General Min Aung Hlaing received a delegation led by Air Chief Marshal Alongkorn Vannarot of the Royal Thai Air Force who attended the 20th ASEAN Air Chiefs Conference (20th AACC), at the parlour of Zeyathiri Beikman in Nay Pyi Taw on 15 September.
During the meeting, both sides candidly exchanged views on the following matters:
· The enhancement of friendly ties between the two armed forces of both countries;
· The cooperation between the Myanmar Tatmadaw (Air) and the Royal Thai Air Force;
· Yearly holding the High-level Committee Meeting between Myanmar and Thai Armed Forces and the Myanmar-Thailand Border Committee Meeting; and
· The promotion of friendly relations between the two countries, and exchange of goodwill visits.
The meeting was also attended by the SAC Chairman Commander-in-Chief of Defence Services together with Lt-Gen Ye Win Oo of the Office of the Commander-in-Chief (Army), Commander-in-Chief (Air) General Tun Aung and senior military officers. The Thai Air Chief Marshal was accompanied by senior air force officers from the Royal Thai Air Force and the Thai Military Attaché to Myanmar.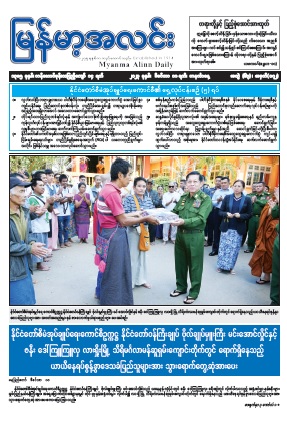 ၁၃၈၅ ခုနှစ်၊ တန်ဆောင်မုန်းလပြည့်ကျော် ၁၄ ရက်၊ ဒီဇင်ဘာ ၁၁ ရက်၊ တနင်္လာနေ့။
---
Publisher: မြန်မာ့အလင်း/ December 11, 2023
Publication Date: 2023
Page: 32 Pages
Language: မြန်မာ
Download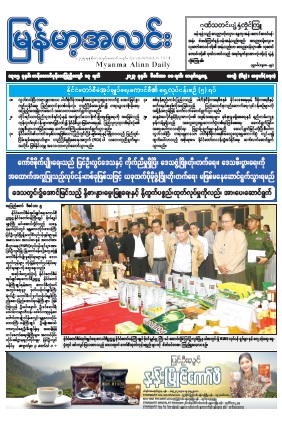 ၁၃၈၅ ခုနှစ်၊ တန်ဆောင်မုန်းလပြည့်ကျော် ၁၃ ရက်၊ ဒီဇင်ဘာ ၁၀ ရက်၊ တနင်္ဂနွေနေ့။
---
Publisher: မြန်မာ့အလင်း/ December 10, 2023
Publication Date: 2023
Page: 32 Pages
Language: မြန်မာ
Download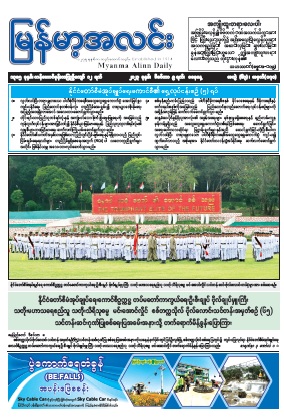 ၁၃၈၅ ခုနှစ်၊ တန်ဆောင်မုန်းလပြည့်ကျော် ၁၂ ရက်၊ ဒီဇင်ဘာ ၉ ရက်၊ စနေနေ့။
---
Publisher: မြန်မာ့အလင်း/ December 09, 2023
Publication Date: 2023
Page: 32 Pages
Language: မြန်မာ
Download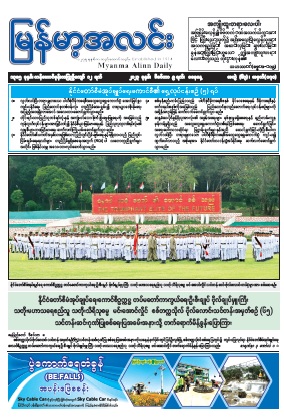 Information Sheet (6-12-2023) / Burmese (Myanmar Version)
---
Publisher: Information Sheet/ December 08, 2023
Publication Date: 2023
Page: 31
Language: Burmese (Myanmar Version
Download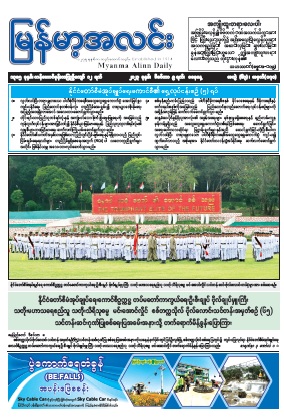 Information Sheet (6-12-2023) / English Version
---
Publisher: Information Sheet/ December 08, 2023
Publication Date: 2023
Page: 31
Language: English Version
Download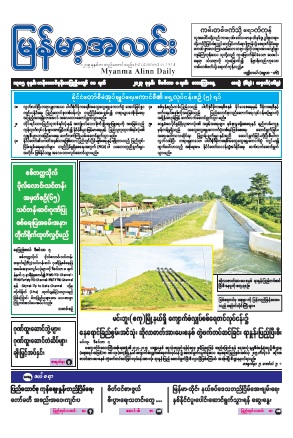 ၁၃၈၅ ခုနှစ်၊ တန်ဆောင်မုန်းလပြည့်ကျော် ၁၁ ရက်၊ ဒီဇင်ဘာ ၈ ရက်၊ သောကြာနေ့။
---
Publisher: မြန်မာ့အလင်း/ December 08, 2023
Publication Date: 2023
Page: 32 Pages
Language: မြန်မာ
Download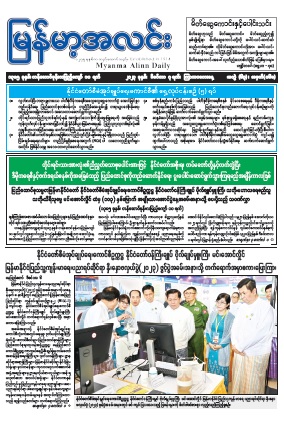 ၁၃၈၅ ခုနှစ်၊ တန်ဆောင်မုန်းလပြည့်ကျော် ၁၀ ရက်၊ ဒီဇင်ဘာ ၇ ရက်၊ ကြာသပတေးနေ့။
---
Publisher: မြန်မာ့အလင်း/ December 07, 2023
Publication Date: 2023
Page: 32 Pages
Language: မြန်မာ
Download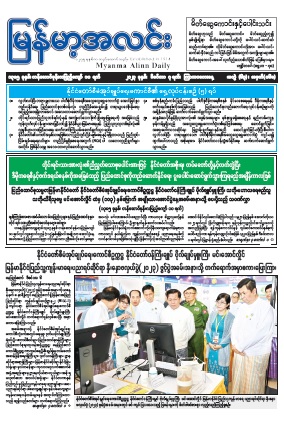 Information Sheet (4-12-2023) / Burmese (Myanmar Version)
---
Publisher: Information Sheet/ December 06, 2023
Publication Date: 2023
Page: 38
Language: Burmese (Myanmar Version)
Download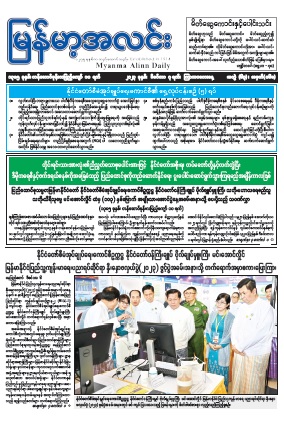 Information Sheet (4-12-2023) / English Version
---
Publisher: Information Sheet/ December 06, 2023
Publication Date: 2023
Page: 38
Language: English Version
Download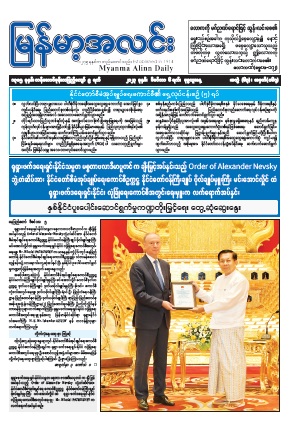 ၁၃၈၅ ခုနှစ်၊ တန်ဆောင်မုန်းလပြည့်ကျော် ၉ ရက်၊ ဒီဇင်ဘာ ၆ ရက်၊ ဗုဒ္ဓဟူးနေ့။
---
Publisher: မြန်မာ့အလင်း/ December 06, 2023
Publication Date: 2023
Page: 32 Pages
Language: မြန်မာ
Download