Chairman of State Administration Council Prime Minister Senior General Min Aung Hlaing Attends Diamond Jubilee of Myanmar National Airlines (MNA)
Ministry of Defense/ Naypyitaw / September 19, 2023
Myanmar National Airlines (MNA) of the Ministry of Transport and Communications held its 75th year diamond jubilee at Melia Hotel in Bahan Township, Yangon on 16 September, addressed by Chairman of State Administration Council Prime Minister Senior General Min Aung Hlaing.
Present together with the Senior General were SAC members, Union level officials, Union Ministers, the Yangon Region Chief Minister, the Chief of General Staff (Army, Navy and Air), senior military officers from the Office of the Commander-in-Chief of Defence Services, the Yangon Command commander, officers and staff of MNA, and honoured guests.
The Senior General then delivered an honorary address stressing the following points –
· UBA and BAC which were established after the country regained independence left behind milestones in the history of domestic and regional air services.
· A successful air transport system needs the efficiency of the flight crew and also good airports and airport services.
· MNA should maintain its fine tradition and history of dutifully shouldering the tasks assigned to it by the State throughout the successful eras in the interest of the nation and people.
· The Senior General said that he was aware that MNA would start cargo trips in the regional countries and wished MNA success in its soon-to-be-started cargo transport services.
· It should be adaptable to changes in increasing the strength of its fleet and number of flights and extending its air services based on the demand for passenger and cargo flights.
· If MNA can extend cargo flights it will help boost the country's imports and exports and will contribute to national economic growth in a way.
The former and current staff as well as those who have strived for the long-term
· existence of the MNA until its 75th year diamond jubilee deserve praise. Therefore, he honoured them with recognition.
Next, the Senior General and party enjoyed the performances staged by the country's famous vocalists and the Myanmar cultural troupe to the accompaniment of the State Orchestra. After the entertainment programme, the Senior General presented bouquets to the vocalists and performers.
Later, the Senior General and those in attendance interestingly viewed the commemorative booth honouring the 75th-year diamond jubilee of MNA where they conducted rounds by officials, it is reported.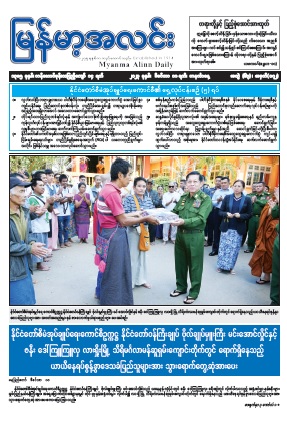 ၁၃၈၅ ခုနှစ်၊ တန်ဆောင်မုန်းလပြည့်ကျော် ၁၄ ရက်၊ ဒီဇင်ဘာ ၁၁ ရက်၊ တနင်္လာနေ့။
---
Publisher: မြန်မာ့အလင်း/ December 11, 2023
Publication Date: 2023
Page: 32 Pages
Language: မြန်မာ
Download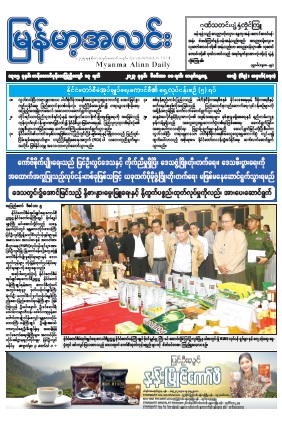 ၁၃၈၅ ခုနှစ်၊ တန်ဆောင်မုန်းလပြည့်ကျော် ၁၃ ရက်၊ ဒီဇင်ဘာ ၁၀ ရက်၊ တနင်္ဂနွေနေ့။
---
Publisher: မြန်မာ့အလင်း/ December 10, 2023
Publication Date: 2023
Page: 32 Pages
Language: မြန်မာ
Download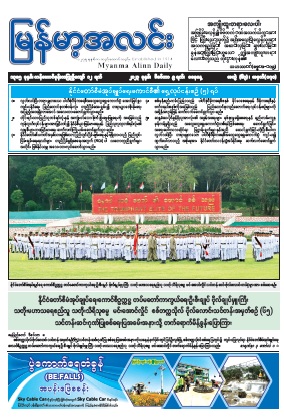 ၁၃၈၅ ခုနှစ်၊ တန်ဆောင်မုန်းလပြည့်ကျော် ၁၂ ရက်၊ ဒီဇင်ဘာ ၉ ရက်၊ စနေနေ့။
---
Publisher: မြန်မာ့အလင်း/ December 09, 2023
Publication Date: 2023
Page: 32 Pages
Language: မြန်မာ
Download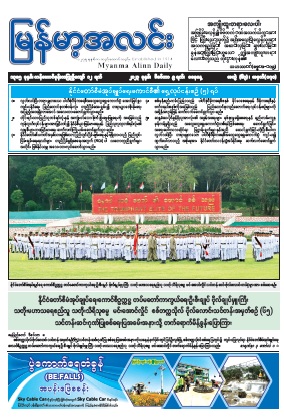 Information Sheet (6-12-2023) / Burmese (Myanmar Version)
---
Publisher: Information Sheet/ December 08, 2023
Publication Date: 2023
Page: 31
Language: Burmese (Myanmar Version
Download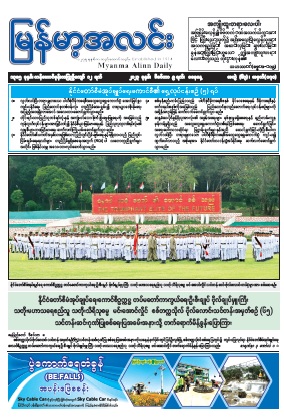 Information Sheet (6-12-2023) / English Version
---
Publisher: Information Sheet/ December 08, 2023
Publication Date: 2023
Page: 31
Language: English Version
Download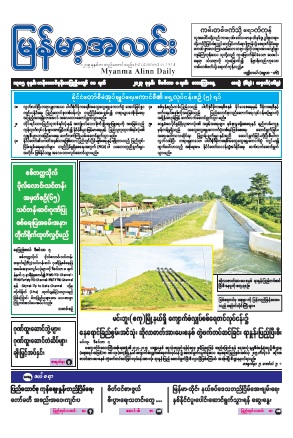 ၁၃၈၅ ခုနှစ်၊ တန်ဆောင်မုန်းလပြည့်ကျော် ၁၁ ရက်၊ ဒီဇင်ဘာ ၈ ရက်၊ သောကြာနေ့။
---
Publisher: မြန်မာ့အလင်း/ December 08, 2023
Publication Date: 2023
Page: 32 Pages
Language: မြန်မာ
Download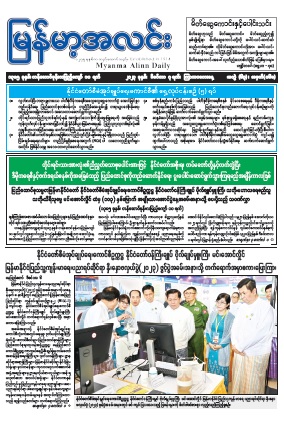 ၁၃၈၅ ခုနှစ်၊ တန်ဆောင်မုန်းလပြည့်ကျော် ၁၀ ရက်၊ ဒီဇင်ဘာ ၇ ရက်၊ ကြာသပတေးနေ့။
---
Publisher: မြန်မာ့အလင်း/ December 07, 2023
Publication Date: 2023
Page: 32 Pages
Language: မြန်မာ
Download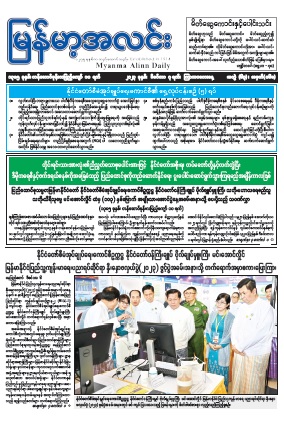 Information Sheet (4-12-2023) / Burmese (Myanmar Version)
---
Publisher: Information Sheet/ December 06, 2023
Publication Date: 2023
Page: 38
Language: Burmese (Myanmar Version)
Download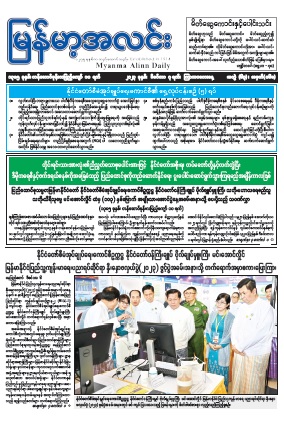 Information Sheet (4-12-2023) / English Version
---
Publisher: Information Sheet/ December 06, 2023
Publication Date: 2023
Page: 38
Language: English Version
Download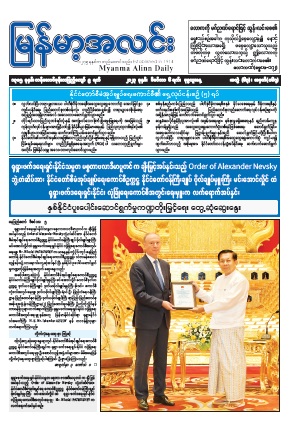 ၁၃၈၅ ခုနှစ်၊ တန်ဆောင်မုန်းလပြည့်ကျော် ၉ ရက်၊ ဒီဇင်ဘာ ၆ ရက်၊ ဗုဒ္ဓဟူးနေ့။
---
Publisher: မြန်မာ့အလင်း/ December 06, 2023
Publication Date: 2023
Page: 32 Pages
Language: မြန်မာ
Download