MoIP Union Minister receives UNFPA representatives
Ministry of Information/ Naypyitaw / July 15, 2023
UNION Minister for Immigration and Population U Myint Kyaing received Mr Ramanathan Balakrishnan, the resident representative of UNFPA to Myanmar, and party at the ministry in Nay Pyi Taw yesterday morning.
During the meeting, they discussed the longstanding cooperation between the ministry and UNFPA, highlighting the ability to continue collaborating on similar activities even in the current situation.
The Ministry's work related to population statistical information necessitates support in terms of technology and relevant equipment they discussed.
As UNFPA, they maintained a strong tradition of continuous cooperation in addressing Myanmar's population and development issues, as well as other related matters they emphasized.
MNA/KZW
#TheGlobalNewLightOfMyanmar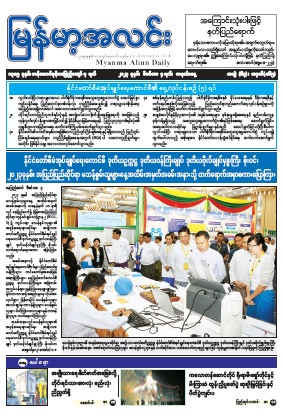 ၁၃၈၅ ခုနှစ်၊ တန်ဆောင်မုန်းလပြည့်ကျော် ၇ ရက်၊ ဒီဇင်ဘာ ၄ ရက်၊ တနင်္လာနေ့။
---
Publisher: မြန်မာ့အလင်း/ December 04, 2023
Publication Date: 2023
Page: 32 Pages
Language: မြန်မာ
Download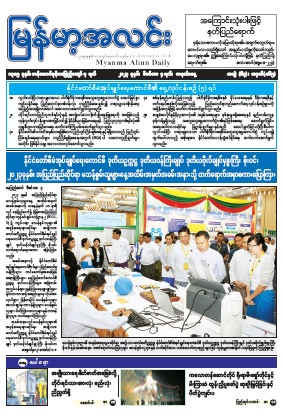 ၁၃၈၅ ခုနှစ်၊ တန်ဆောင်မုန်းလပြည့်ကျော် ၇ ရက်၊ ဒီဇင်ဘာ ၄ ရက်၊ တနင်္လာနေ့။
---
Publisher: မြန်မာ့အလင်း/ December 04, 2023
Publication Date: 2023
Page: 32 Pages
Language: မြန်မာ
Download
၁၃၈၅ ခုနှစ်၊ တန်ဆောင်မုန်းလပြည့်ကျော် ၆ ရက်၊ ဒီဇင်ဘာ ၃ ရက်၊ တနင်္ဂနွေနေ့။
---
Publisher: မြန်မာ့အလင်း/ December 03, 2023
Publication Date: 2023
Page: 32 Pages
Language: မြန်မာ
Download
၁၃၈၅ ခုနှစ်၊ တန်ဆောင်မုန်းလပြည့်ကျော် ၆ ရက်၊ ဒီဇင်ဘာ ၃ ရက်၊ တနင်္ဂနွေနေ့။
---
Publisher: မြန်မာ့အလင်း/ December 03, 2023
Publication Date: 2023
Page: 32 Pages
Language: မြန်မာ
Download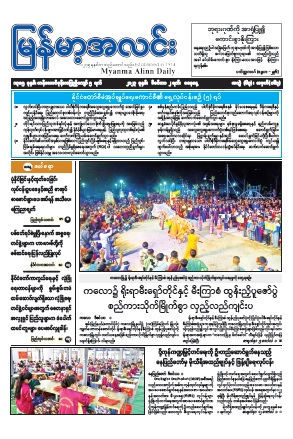 ၁၃၈၅ ခုနှစ်၊ တန်ဆောင်မုန်းလပြည့်ကျော် ၅ ရက်၊ ဒီဇင်ဘာ ၂ ရက်၊ စနေနေ့။
---
Publisher: မြန်မာ့အလင်း/ December 02, 2023
Publication Date: 2023
Page: 32 Pages
Language: မြန်မာ
Download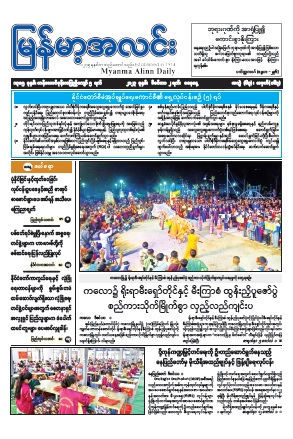 ၁၃၈၅ ခုနှစ်၊ တန်ဆောင်မုန်းလပြည့်ကျော် ၅ ရက်၊ ဒီဇင်ဘာ ၂ ရက်၊ စနေနေ့။
---
Publisher: မြန်မာ့အလင်း/ December 02, 2023
Publication Date: 2023
Page: 32 Pages
Language: မြန်မာ
Download
၁၃၈၅ ခုနှစ်၊ တန်ဆောင်မုန်းလပြည့်ကျော် ၄ ရက်၊ ီဇင်ဘာ ၁ ရက်၊ သောကြာနေ့။
---
Publisher: မြန်မာ့အလင်း/ December 01, 2023
Publication Date: 2023
Page: 32 Pages
Language: မြန်မာ
Download
၁၃၈၅ ခုနှစ်၊ တန်ဆောင်မုန်းလပြည့်ကျော် ၄ ရက်၊ ီဇင်ဘာ ၁ ရက်၊ သောကြာနေ့။
---
Publisher: မြန်မာ့အလင်း/ December 01, 2023
Publication Date: 2023
Page: 32 Pages
Language: မြန်မာ
Download
Information Sheet (29-11-2023) / Burmese (Myanmar Version)
---
Publisher: Information Sheet/ November 30, 2023
Publication Date: 2023
Page: 26
Language: Burmese (Myanmar Version)
Download