SAC Chairman Prime Minister Senior General Min Aung Hlaing holds meeting with Head of St Petersburg Government
Ministry of Information/ Naypyitaw / July 16, 2022
CHAIRMAN of the State Administration Council Prime Minister Senior General Min Aung Hlaing, who is currently in the Russian Federation, held a meeting with Head of the Government from St Petersburg Mr Alexander Beglov at his office on 14 July.
At the meeting, the St Petersburg Government frankly welcomed the SAC Chairman Prime Minister and delegation members and explained 75-yearold good relations between Russia and Myanmar. They cordially exchanged views on further cooperation of St Petersburg-based companies in agriculture, healthcare service, education, tourism development, economic development and cultural sectors for the propagation of religions in Myanmar, efforts of the State Administration Council for ensuring peace, tranquillity and development of the State by adopting the five-point roadmap and nine objectives in addition to good policies, and endeavours of the Russian Federation to protect national interests. The Head of Government of St Petersburg on behalf of all Russian nationals expressed thanks to Myanmar for a friendly act in allowing visa exemption for Russians on 1 July, the implementation of the plan to establish a Myanmar consulate-general in St Petersburg, and further cooperation at the state level, regional level and then national level.
After the meeting, the Senior General and the Head of the St Petersburg Government replied to queries raised by Russian media.
The Head of the St Petersburg Government conducted the Senior General and party round the government office and explained facts about offices and office setups of previous State leaders.
MNA
#TheGlobalNewLightOfMyanmar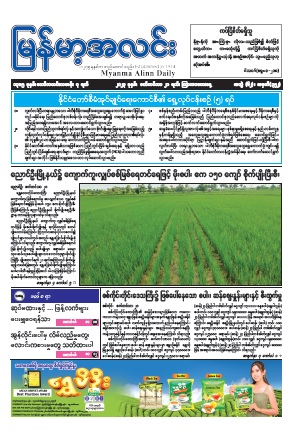 ၁၃၈၅ ခုနှစ်၊ တော်သလင်းလဆန်း ၇ ရက်၊ စက်တင်ဘာ ၂၁ ရက်၊ ကြာသပတေးနေ့။
---
Publisher: မြန်မာ့အလင်း/ September 21, 2023
Publication Date: 2023
Page: 32 Pages
Language: မြန်မာ
Download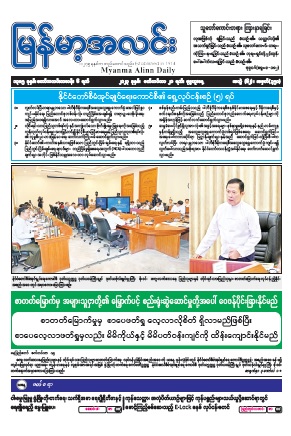 ၁၃၈၅ ခုနှစ်၊ တော်သလင်းလဆန်း ၆ ရက်၊ စက်တင်ဘာ ၂၀ ရက်၊ ဗုဒ္ဓဟူးနေ့။
---
Publisher: မြန်မာ့အလင်း/ September 20, 2023
Publication Date: 2023
Page: 32 Pages
Language: မြန်မာ
Download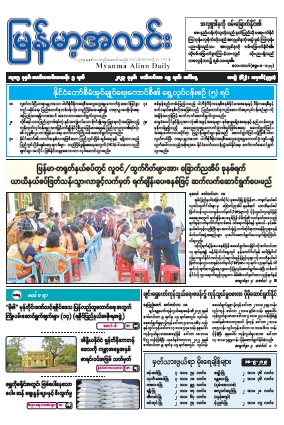 ၁၃၈၅ ခုနှစ်၊ တော်သလင်းလဆန်း ၅ ရက်၊ စက်တင်ဘာ ၁၉ ရက်၊ အင်္ဂါနေ့။
---
Publisher: မြန်မာ့အလင်း/ September 19, 2023
Publication Date: 2023
Page: 32 Pages
Language: မြန်မာ
Download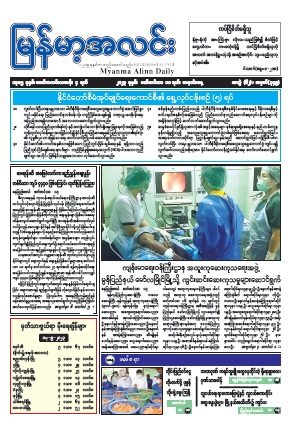 ၁၃၈၅ ခုနှစ်၊ တော်သလင်းလဆန်း ၄ ရက်၊ စက်တင်ဘာ ၁၈ ရက်၊ တနင်္လာနေ့။
---
Publisher: မြန်မာ့အလင်း/ September 18, 2023
Publication Date: 2023
Page: 32 Pages
Language: မြန်မာ
Download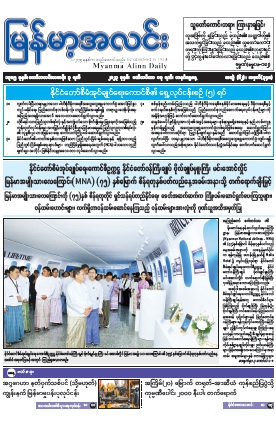 ၁၃၈၅ ခုနှစ်၊ တော်သလင်းလဆန်း ၃ ရက်၊ စက်တင်ဘာ ၁၇ ရက်၊ တနင်္ဂနွေနေ့။
---
Publisher: မြန်မာ့အလင်း/ September 18, 2023
Publication Date: 2023
Page: 32 Pages
Language: မြန်မာ
Download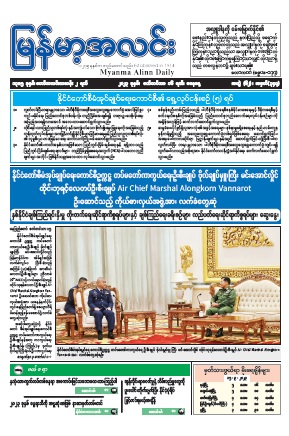 ၁၃၈၅ ခုနှစ်၊ တော်သလင်းလဆန်း ၂ ရက်၊ စက်တင်ဘာ ၁၆ ရက်၊ စနေနေ့။
---
Publisher: မြန်မာ့အလင်း/ September 16, 2023
Publication Date: 2023
Page: 32 Pages
Language: မြန်မာ
Download
၁၃၈၅ ခုနှစ်၊ တော်သလင်းလဆန်း ၁ ရက်၊ စက်တင်ဘာ ၁၅ ရက်၊ သောကြာနေ့။
---
Publisher: မြန်မာ့အလင်း/ September 15, 2023
Publication Date: 2023
Page: 32
Language: မြန်မာ
Download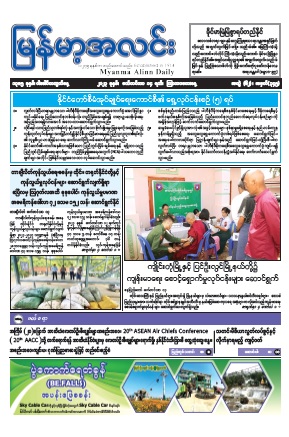 ၁၃၈၅ ခုနှစ်၊ ဝါခေါင်လကွယ်နေ့၊ စက်တင်ဘာ ၁၄ ရက်၊ ကြာသပတေးနေ့။
---
Publisher: မြန်မာ့အလင်း/ September 14, 2023
Publication Date: 2023
Page: 32 Pages
Language: မြန်မာ
Download
၁၃၈၅ ခုနှစ်၊ ဝါခေါင်လပြည့်ကျော် ၁၃ ရက်၊ စက်တင်ဘာ ၁၃ ရက်၊ ဗုဒ္ဓဟူးနေ့။
---
Publisher: မြန်မာ့အလင်း/ September 13, 2023
Publication Date: 2023
Page: 32 Pages
Language: မြန်မာ
Download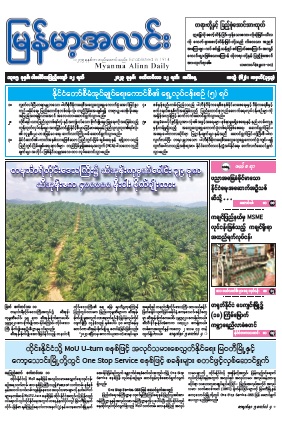 ၁၃၈၅ ခုနှစ်၊ ဝါခေါင်လပြည့်ကျော် ၁၂ ရက်၊ စက်တင်ဘာ ၁၂ ရက်၊ အင်္ဂါနေ့။
---
Publisher: မြန်မာ့အလင်း/ September 12, 2023
Publication Date: 2023
Page: 32 Pages
Language: မြန်မာ
Download