Vice-Chairman of State Administration Council Deputy Prime Minister Vice-Senior General Soe Win Attends 2nd Work Coordination Meeting of Central Census Commission and Delivers a Speech
Ministry of Defense/ Nay Pyi Taw / August 24, 2023
The Central Census Commission held its 2nd Work Coordination Meeting on 2024 Population and Housing Census at the meeting hall of the Ministry of Immigration and Population in Nay Pyi Taw on 22 August. The Vice-Chairman of the State Administration Council (SAC) Deputy Prime Minister Vice-Senior General Soe Win, in his capacity as the Patron of Central Census Commission, attended the meeting and delivered a speech as follows:
· The first work coordination meeting was held on 20 January 2023, and adopted 19 resolutions. In this regard, five resolutions are still under implementation stage and the other 14 were completed.
· As Myanmar collected the census in 2014, one more enumeration of census must be done in 2024 after a period of ten years without fail to contribute to correct and accurate census and socioeconomic data of all administrative areas including the smallest administrative areas, especially for building the Union based on the democratic and federal system as well as strengthening the genuine, disciplined multiparty democratic system.
· Hence, a population and housing census will be carried out in the whole country during the period from 1 to 15 October 2024.
· The SAC will give guidance and approval for important issues submitted by the relevant ministries in connection with census in time.
· The Ministry of Immigration and Population is making preparations for collection of census and household registration to be enumerated in 2024.
· In so doing, special attention must be paid to ensure correct data and quality, meet international set standards, and ensure necessary index and socioeconomic data in collecting the census.
· As such, the data resulted from the census must be useful for the State so that all have to strive for accomplishment of the whole census enumeration process as a national duty.
· The census and household registration enumeration in 2024 will be implemented on a self-reliant basis by spending the State budget through the collaborative efforts of ministries. Therefore, they all have to cooperate with each other in collecting the firm and exact data like the past census.
Afterwards, Chairman of the Central Census Commission Union Minister U Myint Kyaing, Secretaries and members deputy ministers of the Central Census Commission, and region and state chief ministers who are chairpersons of the region and state census supervisory committees reported on their concerned sectors of work process for successful collection of census and household registration in 2024, and plans of relevant ministries for their cooperation in the process. Then, the Patron of Central Census Commission, SAC Vice-Chairman Deputy Prime Minister Vice-Senior General coordinated with the responsible officials to fulfill the needs concerning the reports presented by the officials and gave a concluding remark, following the meeting over.
Present were Chairman of the Commission Union Minister for Immigration and Population U Myint Kyaing, Commission Members deputy ministers, Nay Pyi Taw Council members and officials. Chief Ministers of regions and states attended the meeting through videoconferencing.
Source: Myawady Daily Newspaper (23-8-2023)
Information Sheet (4-12-2023) / Burmese (Myanmar Version)
---
Publisher: Information Sheet/ December 06, 2023
Publication Date: 2023
Page: 38
Language: Burmese (Myanmar Version)
Download
Information Sheet (4-12-2023) / English Version
---
Publisher: Information Sheet/ December 06, 2023
Publication Date: 2023
Page: 38
Language: English Version
Download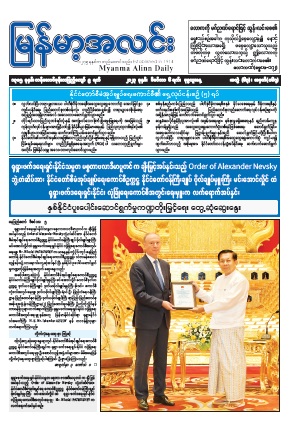 ၁၃၈၅ ခုနှစ်၊ တန်ဆောင်မုန်းလပြည့်ကျော် ၉ ရက်၊ ဒီဇင်ဘာ ၆ ရက်၊ ဗုဒ္ဓဟူးနေ့။
---
Publisher: မြန်မာ့အလင်း/ December 06, 2023
Publication Date: 2023
Page: 32 Pages
Language: မြန်မာ
Download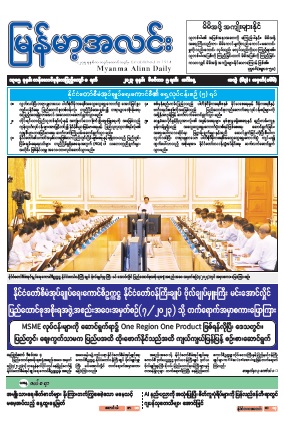 ၁၃၈၅ ခုနှစ်၊ တန်ဆောင်မုန်းလပြည့်ကျော် ၈ ရက်၊ ဒီဇင်ဘာ ၅ ရက်၊ အင်္ဂါနေ့။
---
Publisher: မြန်မာ့အလင်း/ December 05, 2023
Publication Date: 2023
Page: 32 Pages
Language: မြန်မာ
Download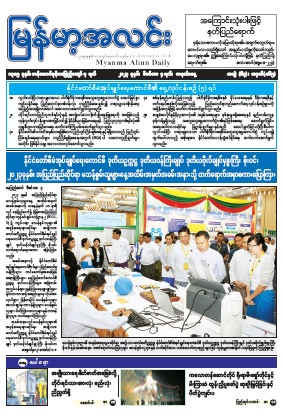 ၁၃၈၅ ခုနှစ်၊ တန်ဆောင်မုန်းလပြည့်ကျော် ၇ ရက်၊ ဒီဇင်ဘာ ၄ ရက်၊ တနင်္လာနေ့။
---
Publisher: မြန်မာ့အလင်း/ December 04, 2023
Publication Date: 2023
Page: 32 Pages
Language: မြန်မာ
Download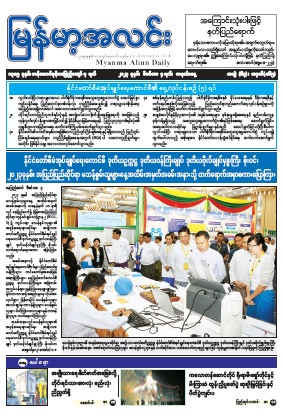 ၁၃၈၅ ခုနှစ်၊ တန်ဆောင်မုန်းလပြည့်ကျော် ၇ ရက်၊ ဒီဇင်ဘာ ၄ ရက်၊ တနင်္လာနေ့။
---
Publisher: မြန်မာ့အလင်း/ December 04, 2023
Publication Date: 2023
Page: 32 Pages
Language: မြန်မာ
Download
၁၃၈၅ ခုနှစ်၊ တန်ဆောင်မုန်းလပြည့်ကျော် ၆ ရက်၊ ဒီဇင်ဘာ ၃ ရက်၊ တနင်္ဂနွေနေ့။
---
Publisher: မြန်မာ့အလင်း/ December 03, 2023
Publication Date: 2023
Page: 32 Pages
Language: မြန်မာ
Download
၁၃၈၅ ခုနှစ်၊ တန်ဆောင်မုန်းလပြည့်ကျော် ၆ ရက်၊ ဒီဇင်ဘာ ၃ ရက်၊ တနင်္ဂနွေနေ့။
---
Publisher: မြန်မာ့အလင်း/ December 03, 2023
Publication Date: 2023
Page: 32 Pages
Language: မြန်မာ
Download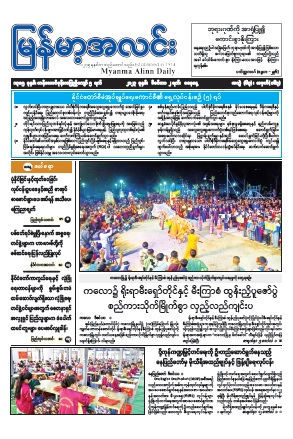 ၁၃၈၅ ခုနှစ်၊ တန်ဆောင်မုန်းလပြည့်ကျော် ၅ ရက်၊ ဒီဇင်ဘာ ၂ ရက်၊ စနေနေ့။
---
Publisher: မြန်မာ့အလင်း/ December 02, 2023
Publication Date: 2023
Page: 32 Pages
Language: မြန်မာ
Download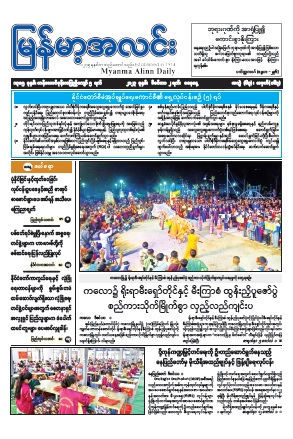 ၁၃၈၅ ခုနှစ်၊ တန်ဆောင်မုန်းလပြည့်ကျော် ၅ ရက်၊ ဒီဇင်ဘာ ၂ ရက်၊ စနေနေ့။
---
Publisher: မြန်မာ့အလင်း/ December 02, 2023
Publication Date: 2023
Page: 32 Pages
Language: မြန်မာ
Download