Myanmar census working committee on eradication of child labour holds 5th meeting
Ministry of Information/ Naypyitaw / January 19, 2022
MYANMAR Census Working Committee on Eradication of Child Labour held its 5th coordination meeting yesterday morning online at the Ministry of Planning and Finance. The meeting was attended by the Chairman of the working committee Deputy Minister for Planning and Finance Daw Than Than Lin, members of the committee and representatives from the state/regional committee.
At the meeting, the deputy minister discussed the completion of child labour surveys conducted in nine regions/states and the submission of the report to the National Committee for the Eradication of Child Labour, the status of child labour surveys in regions and states during the 2021-2022 Mini Budget Year and the status of submitting the survey report to the National Committee on March 2022.
She urged the regions and states remaining to conduct the survey to draw a work schedule and submit it to the Census Working Committee in Nay Pyi Taw, called on the working committee members to work together in conducting the survey.
The meeting also discussed the progress of the survey, the types of the survey conducted and future plans.
MNA
#TheGlobalNewLightOfMyanmar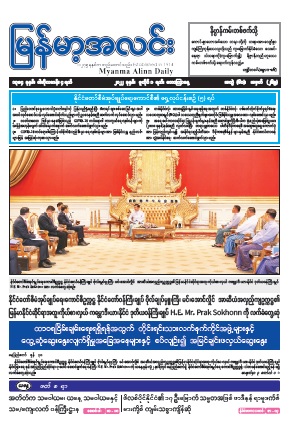 ၁၃၈၄ ခုနှစ်၊ ဝါဆိုလဆန်း ၄ ‌ရက် ၊‌ ဇူလိုင် ၁ ရက်၊ သောကြာနေ့။
---
Publisher: မြန်မာ့အလင်း/ July 01, 2022
Publication Date: 2022
Page: 32 Pages
Language: မြန်မာ
Download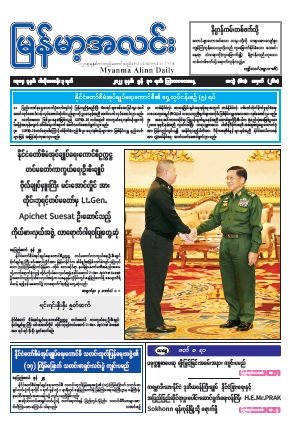 ၁၃၈၄ ခုနှစ်၊ ဝါဆိုလဆန်း ၃ ‌ရက် ၊‌ ဇွန် ၃၀ ရက်၊ ကြာသပတေးနေ့။
---
Publisher: မြန်မာ့အလင်း/ June 30, 2022
Publication Date: 2022
Page: 32 Pages
Language: မြန်မာ
Download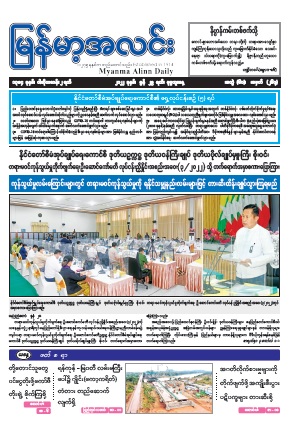 ၁၃၈၄ ခုနှစ်၊ ဝါဆိုလဆန်း ၂ ‌ရက် ၊‌ ဇွန် ၂၉ ရက်၊ ဗုဒ္ဓဟူးနေ့။
---
Publisher: မြန်မာ့အလင်း/ June 29, 2022
Publication Date: 2022
Page: 32 Pages
Language: မြန်မာ
Download
၁၃၈၄ ခုနှစ်၊ ဝါဆိုလဆန်း ၁ ‌ရက် ၊‌ ဇွန် ၂၈ ရက်၊ အင်္ဂါနေ့။
---
Publisher: မြန်မာ့အလင်း/ June 28, 2022
Publication Date: 2022
Page: 32 Pages
Language: မြန်မာ
Download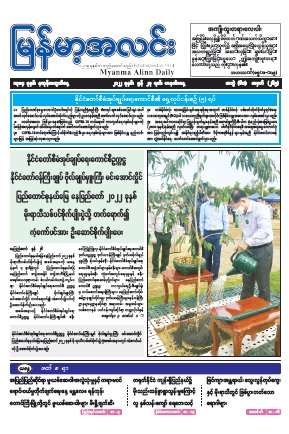 ၁၃၈၄ ခုနှစ်၊ နယုန်လကွယ်နေ့ ၊‌ ဇွန် ၂၇ ရက်၊ တနင်္လာနေ့။
---
Publisher: မြန်မာ့အလင်း/ June 27, 2022
Publication Date: 2022
Page: 32 Pages
Language: မြန်မာ
Download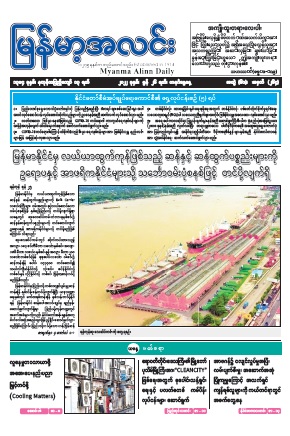 ၁၃၈၄ ခုနှစ်၊ နယုန်လပြည့်ကျော် ၁၃ ရက်၊‌ ဇွန် ၂၆ ရက်၊ တနင်္ဂနွေနေ့။
---
Publisher: မြန်မာ့အလင်း/ June 26, 2022
Publication Date: 2022
Page: 32 Pages
Language: မြန်မာ
Download
၁၃၈၄ ခုနှစ်၊ နယုန်လပြည့်ကျော် ၁၂ ရက်၊‌ ဇွန် ၂၅ ရက်၊ စနေနေ့။
---
Publisher: မြန်မာ့အလင်း/ June 25, 2022
Publication Date: 2022
Page: 32 Pages
Language: မြန်မာ
Download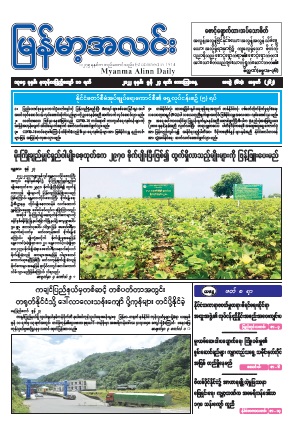 ၁၃၈၄ ခုနှစ်၊ နယုန်လပြည့်ကျော် ၁၁ ရက်၊‌ ဇွန် ၂၄ ရက်၊ သောကြာနေ့။
---
Publisher: မြန်မာ့အလင်း/ June 24, 2022
Publication Date: 2022
Page: 32 Pages
Language: မြန်မာ
Download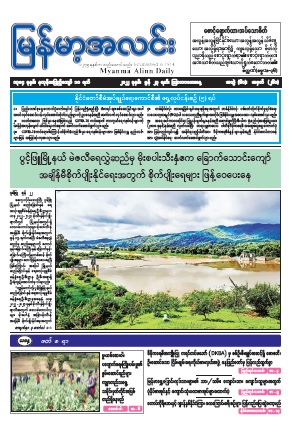 ၁၃၈၄ ခုနှစ်၊ နယုန်လပြည့်ကျော် ၁၀ ရက် ၊‌ ဇွန် ၂၃ ရက်၊ ကြာသပတေးနေ့။
---
Publisher: မြန်မာ့အလင်း/ June 23, 2022
Publication Date: 2022
Page: 32 Pages
Language: မြန်မာ
Download
၁၃၈၄ ခုနှစ်၊ နယုန်လပြည့်ကျော် ၉ ရက် ၊‌ ဇွန် ၂၂ ရက်၊ ဗုဒ္ဓဟူးနေ့။
---
Publisher: မြန်မာ့အလင်း/ June 22, 2022
Publication Date: 2022
Page: 32 Pages
Language: မြန်မာ
Download