Union Industry Minister makes inspection tour in Mon state
Ministry of Information/ Naypyitaw / January 19, 2022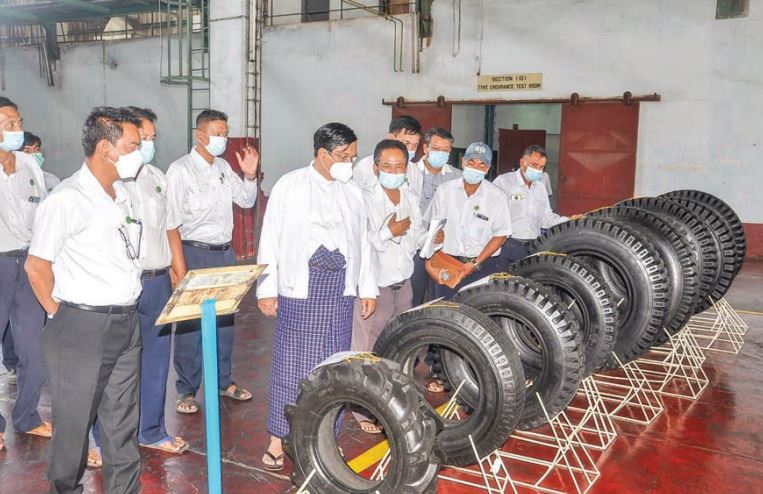 UNION Minister for Industry Dr Charlie Than, accompanied by Deputy Minister U Ko Ko Lwin, Minister for Natural Resources of the Mon State Government, made a tour of inspection in Thanbyuzayat and Mawlamyine in Mon State on 16 January.
During the tour, the Union minister and party visited the rubber plantation at Min Ywa Rubber Plantation and rubber productions at Crumb Rubber Factory in Thanbyuzayat Township. Afterwards, they visited the plantation of durian trees which are being grown under the joint-venture of the Ministry of Industry and the United Agrifood Co., Ltd.
In the afternoon, they arrived at the Ceramics Manufacturing Department in Mawlamyine and inspected the production process of the factory. Afterwards, they inspected the No (4) Distillery Factory and gave necessary instructions to factory officials.
In the evening, the Union minister and party arrived at the Industrial Supervision and Inspection Department in Mawlamyine and highlighted the need to give priority to the development of activities that directly benefit the people, to be trained to use the aids in inspection work, to carry out the systematic inspection to prevent fire as well as to distribute awareness leaflets, to check boilers systematically to ensure compliance with the standards, to conduct the inspection to ensure no harm to the environment and health, and to be proactive and quick to get good results in carrying out their work.
On 17 January, the Union minister met with the Mon State government ministers and discussed the operation of the Ministry of Industry. The deputy minister explained the rubber cultivation and production of the Ministry of Industry in Mon State, the condition of factories, plans to open a rubber technical training school next year to provide more job opportunities for young people in the state. The Union minister said he will provide assistance for the development of industrial works.
Afterwards, the Union minister and party visited Kyonekaya Rubber Plantation in Paung Township and instructed officials to plan other perennial crops that are suitable for the climate. In the afternoon, they inspected No (21) Heavy Industry in Thaton and gave necessary instructions to the factory manager and officials.
The Union minister and party also visited No (8) Industrial Training Centre in Thaton and ordered to focus on making the school effective for the country and the state, to transform the traditional education system into a skills-based system, and to learn and master various subjects related to each instructor.
MNA
#TheGlobalNewLightOfMyanmar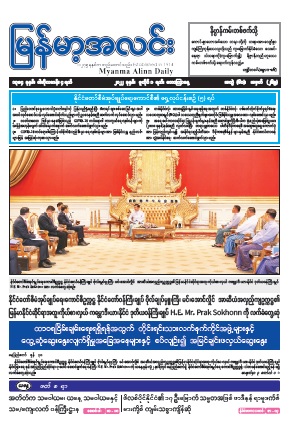 ၁၃၈၄ ခုနှစ်၊ ဝါဆိုလဆန်း ၄ ‌ရက် ၊‌ ဇူလိုင် ၁ ရက်၊ သောကြာနေ့။
---
Publisher: မြန်မာ့အလင်း/ July 01, 2022
Publication Date: 2022
Page: 32 Pages
Language: မြန်မာ
Download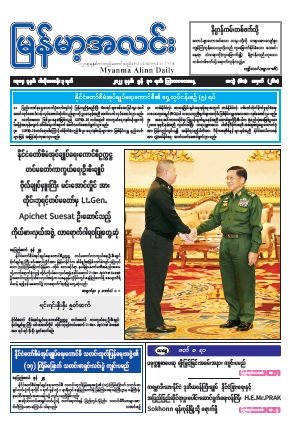 ၁၃၈၄ ခုနှစ်၊ ဝါဆိုလဆန်း ၃ ‌ရက် ၊‌ ဇွန် ၃၀ ရက်၊ ကြာသပတေးနေ့။
---
Publisher: မြန်မာ့အလင်း/ June 30, 2022
Publication Date: 2022
Page: 32 Pages
Language: မြန်မာ
Download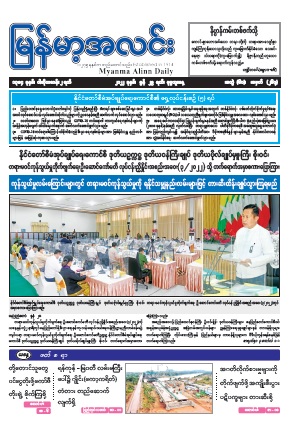 ၁၃၈၄ ခုနှစ်၊ ဝါဆိုလဆန်း ၂ ‌ရက် ၊‌ ဇွန် ၂၉ ရက်၊ ဗုဒ္ဓဟူးနေ့။
---
Publisher: မြန်မာ့အလင်း/ June 29, 2022
Publication Date: 2022
Page: 32 Pages
Language: မြန်မာ
Download
၁၃၈၄ ခုနှစ်၊ ဝါဆိုလဆန်း ၁ ‌ရက် ၊‌ ဇွန် ၂၈ ရက်၊ အင်္ဂါနေ့။
---
Publisher: မြန်မာ့အလင်း/ June 28, 2022
Publication Date: 2022
Page: 32 Pages
Language: မြန်မာ
Download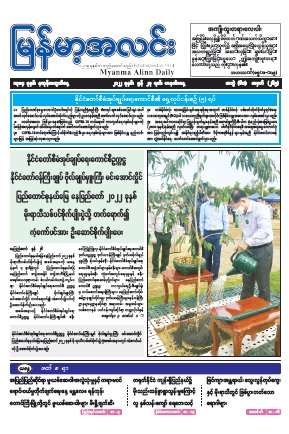 ၁၃၈၄ ခုနှစ်၊ နယုန်လကွယ်နေ့ ၊‌ ဇွန် ၂၇ ရက်၊ တနင်္လာနေ့။
---
Publisher: မြန်မာ့အလင်း/ June 27, 2022
Publication Date: 2022
Page: 32 Pages
Language: မြန်မာ
Download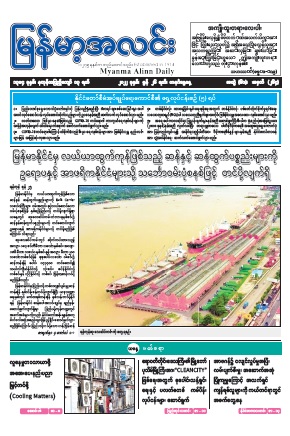 ၁၃၈၄ ခုနှစ်၊ နယုန်လပြည့်ကျော် ၁၃ ရက်၊‌ ဇွန် ၂၆ ရက်၊ တနင်္ဂနွေနေ့။
---
Publisher: မြန်မာ့အလင်း/ June 26, 2022
Publication Date: 2022
Page: 32 Pages
Language: မြန်မာ
Download
၁၃၈၄ ခုနှစ်၊ နယုန်လပြည့်ကျော် ၁၂ ရက်၊‌ ဇွန် ၂၅ ရက်၊ စနေနေ့။
---
Publisher: မြန်မာ့အလင်း/ June 25, 2022
Publication Date: 2022
Page: 32 Pages
Language: မြန်မာ
Download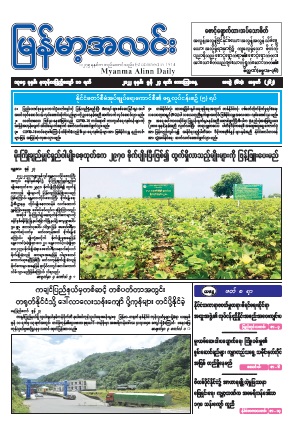 ၁၃၈၄ ခုနှစ်၊ နယုန်လပြည့်ကျော် ၁၁ ရက်၊‌ ဇွန် ၂၄ ရက်၊ သောကြာနေ့။
---
Publisher: မြန်မာ့အလင်း/ June 24, 2022
Publication Date: 2022
Page: 32 Pages
Language: မြန်မာ
Download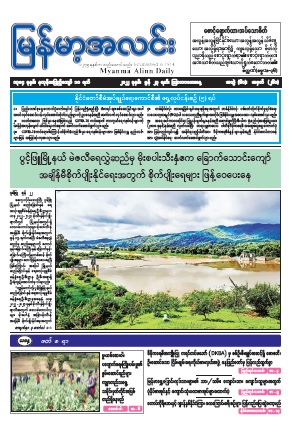 ၁၃၈၄ ခုနှစ်၊ နယုန်လပြည့်ကျော် ၁၀ ရက် ၊‌ ဇွန် ၂၃ ရက်၊ ကြာသပတေးနေ့။
---
Publisher: မြန်မာ့အလင်း/ June 23, 2022
Publication Date: 2022
Page: 32 Pages
Language: မြန်မာ
Download
၁၃၈၄ ခုနှစ်၊ နယုန်လပြည့်ကျော် ၉ ရက် ၊‌ ဇွန် ၂၂ ရက်၊ ဗုဒ္ဓဟူးနေ့။
---
Publisher: မြန်မာ့အလင်း/ June 22, 2022
Publication Date: 2022
Page: 32 Pages
Language: မြန်မာ
Download